Welcome to this Friday's VTNS Fan Freebie!
Want to make a bouquet that doesn't wilt? Here's an idea. Make these birth month flowers using these vintage craft patterns and instructions.
Not only do birthday months have birthstones, they also have birth flowers and here are craft patterns and instructions to make them. You'll find several places on the internet that tell you the meaning, history and facts about each birth flower so I won't take time to do that here.
This is October's Birth Flower, Cosmos: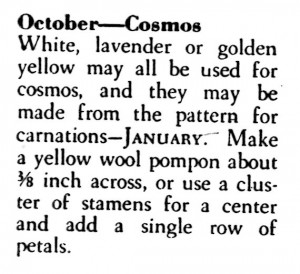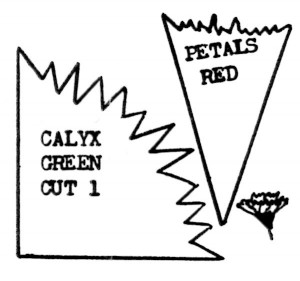 Many materials may be used for making these birthday flowers: felt, flannel, leather, silk, satin, plastic, crepe paper, wood fiber even tissues. Accurate cutting lines and color suggestions for each flower are included.
As a rule, one is enough for a boutonniere; you might use several flowers of one sort for a bouquet or several of different sorts may be used together if they harmonize.
To add long stems, use covered wire or wrap ordinary wire with green crepe paper, thread or yarn.
This is a copy of one of the sheets included in the PDF download. There are two sheets of flower patterns and instructions that include all 12 months of flowers.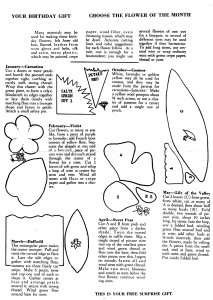 Here's the PDF file:
How to Make the Flower of the Month PDF
The patterns are in PDF format so to download the file you'll need the Adobe Reader software on your computer. Most computers come with it, but it is free and can be found here.
Download Instructions: Right-Click the link and select either "save target as" or "save link as" depending on what browser you are using or simply click on it and save or print.
Enjoy!