Decorate your kitchen for the holidays with these bell potholders.  The pattern is from a vintage Lily Design Book.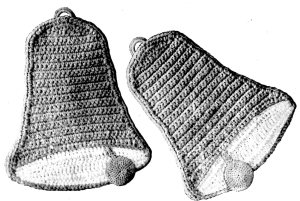 Pocket Potholders
These become pocket potholders by sewing the two halves together. These bell potholders use red, tea rose and green. The material they're made of is Lily Cotton Yarn and crochet hooks in size No. 0 (zero) and 5.
PDF file for download
Jingle Bells Potholder Crochet Pattern PDF
The pattern is in PDF format so to download it you'll need the Adobe Reader software on your computer. Most computers come with it, but it is free and can be found here.
Download Instructions: Right-Click the link and select either "save target as" or "save link as" depending on what browser you are using or simply click on it and save or print.
If you like this page, be sure to share it with your friends and like our Facebook Fanpage so you can get updates every time we post new patterns.
Please share your favorite needlework hints, tips and projects in the comments below or with us on Facebook.
Enjoy!
This post may contain affiliate links. These affiliate links help support this site. For more information, please see my disclosure policy.