Bangle Jacket
This pretty vintage crochet pattern comes from an American Thread Star Book No. 209 titled Let's Crochet, Beginner's Stitches. A Bangle Jacket perfect for a New Year's Eve party.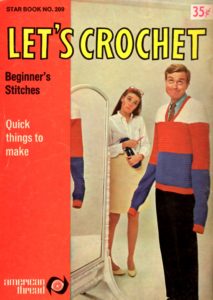 You create the jacket using single crochet stitches with a gauge of 3 sc = 1 inch. Once you crochet the sides and arms separately they are sewn together with yarn and single crochet stitches.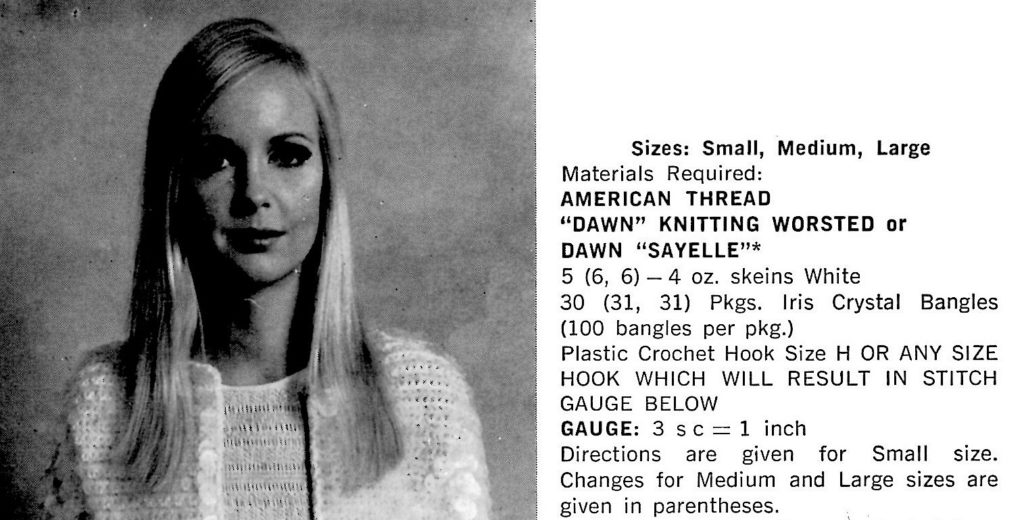 Yarn Substitutes
Yarn for this project is Dawn Knitting Worsted or Dawn Sayelle. The Knitting Worsted is 100% wool while the Sayelle is a 100% Acrylic yarn. It came in 100 gram or 215 yard skeins. A substitute would be Bernat Satin Yarn Silk or Mary Maxim Starlette Yarn. Both of these yarns come in 100 gram skeins.
Bangles, Sequins or Paillettes
I finally found some beautiful bangles after changing my search word to sequins. These are actually named Crystal Rainbow Iris. Similar to those required in the pattern. They are 20mm round paillettes measuring almost an inch. The instructions say to insert the bangles with a hook, but the bangles I found may not have a big enough hole for a crochet hook and may need to be sewn on with a needle.
PDF Pattern Download
The pattern is in PDF format so to read it you'll need the Adobe Reader software on your computer. Most computers come with it, but it is free and can be found here.
Download Instructions: Right-Click on the link and select either "save target as" or "save link as" depending on what browser you are using or simply click on it and save or print.
If you like this post, be sure to share it with your friends and like our Facebook Page so you can get updates every time we post new patterns.
Enjoy!
This post may contain affiliate links. These affiliate links help support this site. For more information, please see my disclosure policy.