Berlin wool work is a type of embroidery similar to today's needlepoint. Typically it's wool yarn on canvas. For the most part, it is worked in a single stitch, like cross stitch, but some books demonstrate several different stitches for use in Berlin work.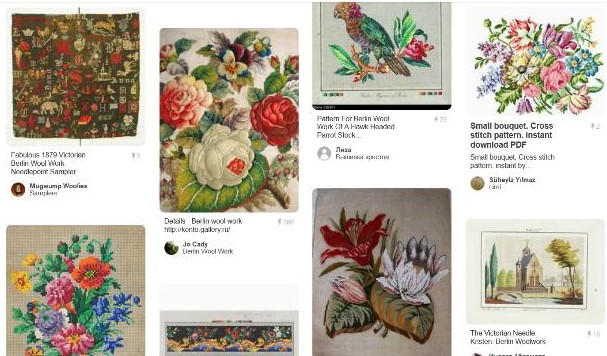 Most notable for the bright dyes and colors of yarn in the designs, it is also a  durable type of embroidery that can be used for furniture, cushions, bags and some clothing.
Berlin wool work started in Berlin, Germany, early in the 19th century. At first, the patterns were printed in black and white on a grid and later hand-colored. You can find Berlin wool work one page patterns published in ladies' magazines in the 1800's.
During the Victorian Era Berlin work became popular as more women had leisure time to do needlework. The designs during this period were romantic, floral and some times quotations such as "Home Sweet Home".
Once the Arts and Crafts movement came along, tastes changed and Berlin wool work wasn't as popular.
Rose Slipper Pattern
This is a beautiful pattern for a slipper done in Berlin wool work. There are lovely shaded red roses and leaves stitched on the top and sides of the slipper. Published in The Young Ladies Journal in July 1882, this Victorian design could also be used as counted cross stitch.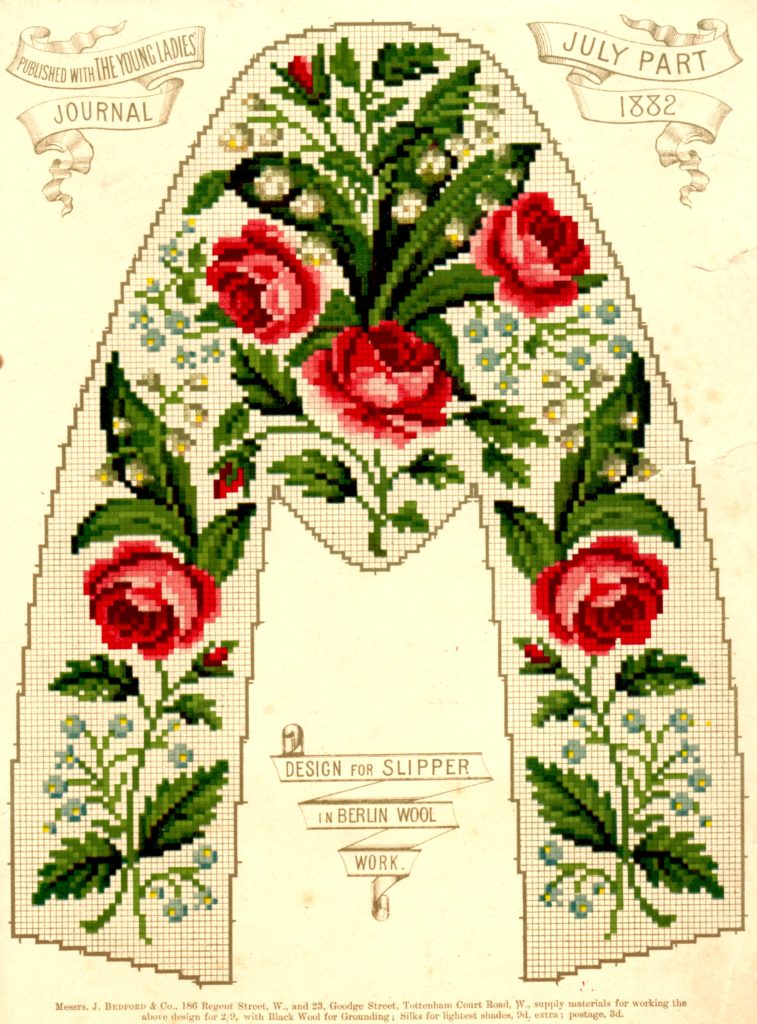 PDF File for Download
Design for Slipper in Berlin Wool Work PDF
The pattern is in PDF format so to read it you'll need the Adobe Reader software on your computer. Most computers come with it, but it is free and can be found here.
Download Instructions: Right-Click the link and select either "save target as" or "save link as" depending on what browser you are using or simply click on it and save or print.

Another Berlin Wool Work Slipper Pattern
For another Victorian Berlin Wool Work Slipper pattern see this blog post.
Antique Pattern Library
The Antique Pattern Library has more slipper patterns and many others on their Berlin Wool Work Resource Page.
Join us on Facebook
If you like this page, be sure to share it with your friends and like our Facebook Fanpage so you can get updates every time we post new patterns.
Enjoy!
This post contains affiliate links. For more information, please see my disclosure policy.