Pretty Ruffled Crochet Edging Pattern
The crochet edging for this heart pincushion is perfect for Valentine's Day. If you didn't want to do the heart, you could add this pretty edging to any number of things.
For this pattern, you buy or sew the heart pincushion, crochet the edging and then sew it on. Whether you use a pincushion, sachet, towel, table topper or blouse, this edging would work.
The pattern comes from a 1945 Spool Cotton Booklet No. 226 titled GIFTS Crocheted and Knitted. I hope to share a couple more of the cute designs in this booklet in the future.
Only one ball of J & P Coats Tatting Cotton Size 70 is used for the pattern.
This ball of DMC Cordonnet Cotton Size 70 on Amazon could be substituted and comes in white or ecru.
Crochet Edging Pattern Instructions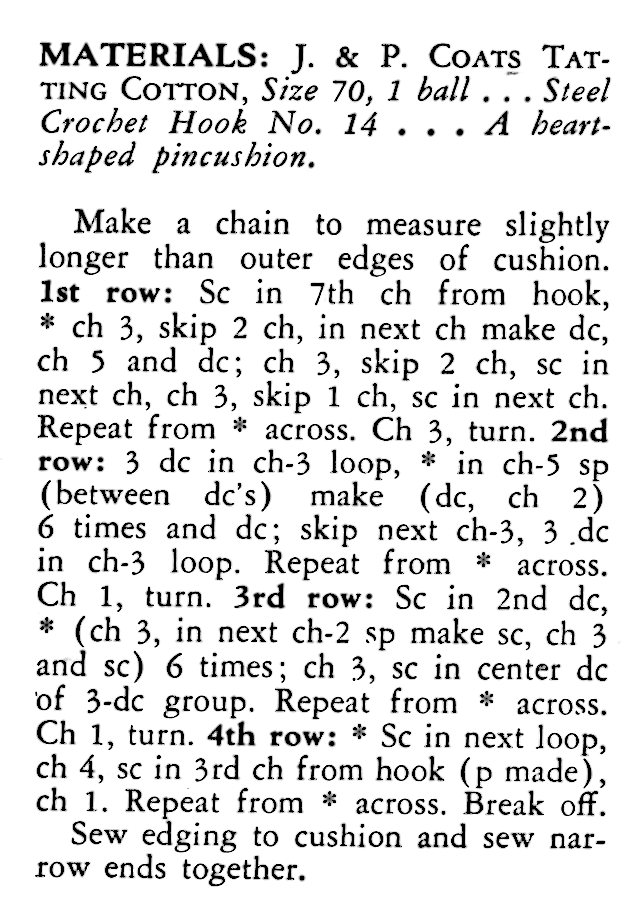 Download Instructions: Right-Click the pattern image and select either "save target as" or "save link as" depending on what browser you are using or simply click on it and save or print.
More Crochet Edging Patterns
You can find several other crochet edging patterns in these blog posts.
DIY Heart Pincushion Links
Pinterest has a board dedicated to just Heart Pincushions. I could be on there all day!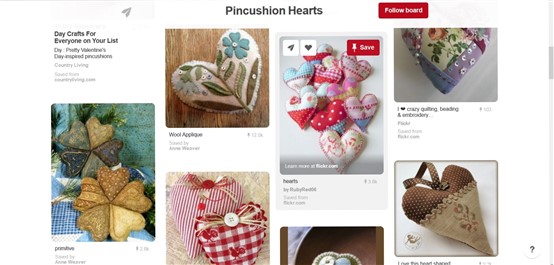 My favorite are the felt hearts embellished with embroidery. Here are two tutorials for making them.
Flamingo Toes A Creative Blog by Beverly McCullough has a tutorial for a DIY Fabric Heart Valentines – Felt and Fabric Heart Sachet Valentines. These hearts are adorable and look fairly easy to make.
Better Homes and Gardens Romantic Heart Wool Valentine – No-fray felted wool makes this applique project quick to stitch. This lovely heart is embellished with felt flowers, beads and cording.
Share this page with your friends and like our Facebook Fanpage so you can get updates every time we post new patterns.
Enjoy!
This post contains affiliate links. For more information, please see my disclosure policy.