Welcome to this Friday's VTNS (Vintage Textile and Needlework Sellers) Fan Freebie!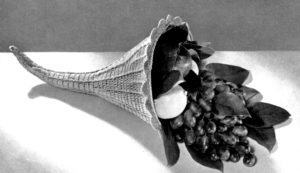 Another word for Horn of Plenty is Cornucopia. Filled with produce, flowers or nuts it's a symbol of abundance and nourishment making it the perfect centerpiece for a Thanksgiving table.
Follow the instructions for this vintage crochet pattern and you'll have a great table decoration for Thanksgiving. This crochet pattern comes from an American Thread Star Book number 116 titled Crocheted Fashions. Probably from around the 1940's.
At the end of the pattern there are instructions for starching the horn of plenty by heating a mixture of starch and water. In an earlier post I shared a Miniature Horn of Plenty Crochet Pattern that also has instructions for stiffening a crocheted item using water and sugar.
If you don't want to take the time and trouble to make your own stiffening agent Aleene's Fabric Stiffener and Draping Liquid is also a great way to stiffen your crocheted items. It's non-toxic, thin and tintable. When dry, it's water-resistant and easy to paint.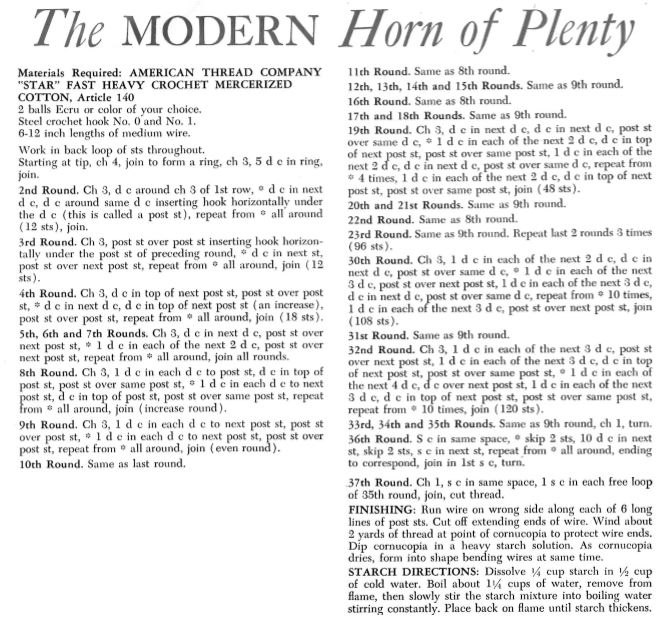 Since this scan isn't quite as clear as I'd like, I've made it available in a PDF file format. Read the download instructions below to save this crochet pattern.
Horn of Plenty Crochet Pattern PDF
To read this pattern you'll need the Adobe Reader software on your computer. Most computers come with it, but it is free and can be found here.
Download Instructions: Right-Click the link and select either "save target as" or "save link as" depending on what browser you are using or simply click on it and save or print.
If you like this page, be sure to share it with your friends and like our Facebook Fanpage so you can get updates every time we post new patterns.
Enjoy!
This post contains affiliate links. For more information, please see my disclosure policy.
Save
Save
Save
Save
Save