Welcome to this Friday's VTNS (Vintage Textile and Needlework Sellers) Fan Freebie!
I thought today I would share a cross stitch alphabet for monograms on clothing and linens. The cross stitch alphabet is also great to use to personalize gifts, stitch verses, wedding and birth records, and as a way to sign your name to your work.
I'm leaving this cross stitch alphabet in .jpg format so that after you've saved it you will be able to open it in the photo editing software of your choice so you can resize, crop, touch up, etc.
Download Instructions: Right-Click the link and select either "save target as" or "save link as" depending on what browser you are using or simply click on it and save or print.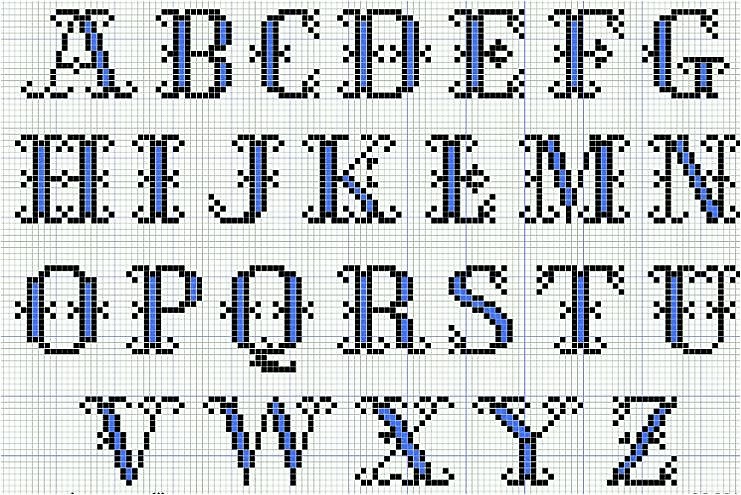 Some of the things you can do to alter the alphabet is change thread colors, use a different palette besides the blue with black outline. You could make a pattern inside the letters or use backstitches instead of cross stitches for the outline.
By adding stitches between and around the letters or maybe lining the letters up in a crooked or wavy line will give your work a whimsical look.
These Velour Guest Towels by Charles Craft measure 12 by 19½ inches and would be nice as monogrammed gifts for Christmas, a wedding or new home.
They are 100% cotton and come in several colors. The velour is soft and plush while the 14-count Aida is easy to stitch.
If you like this page, be sure to share it with your friends and like our Facebook Fanpage so you can get updates every time we post new patterns.
Enjoy!
This post contains affiliate links. For more information, please see my disclosure policy.
Save
Save
Save