For today's Freebie I'm thinking about Mother's Day coming up soon. This is a 1940's handbag crochet pattern from a Jack Frost Handbags booklet. The purses were made using Straw, Cordet, Soutache or Kordette, all were interchangeable and all are no longer available.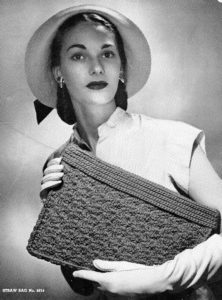 The pattern I'm sharing uses the Straw (3) 2-oz tubes and a size 4 crochet hook. In my research I've found that the yarns used for these patterns are cotton/rayon, strong and smooth. I found some Soutache, but I'm not sure if it is dense enough for the bag. I think some of this Premier Yarn Raffia may work for a replacement of the Straw required for this pattern.

This beautiful multi-color nylon crochet thread says it's perfect for crocheting purses, totes, placemats and such, so it may work as well.
If you're interested in using vintage patterns versus modern day patterns, this article on the KnittingGuru blog gives an excellent comparison and tips. The blogger, Veena Burry even uses one of the handbag patterns in the same booklet as an example. She points out that not only is some of the yarn required no longer available, the instructions themselves are much more vague than today's instructions.
Many times I've done research to find a substitute (see above) for a vintage yarn that's no longer available, only to find several different types that may work. Point is, using vintage patterns can be a lot of trial and error.
This article by Kristina Olson Designs, Makers, Vintage Patterns and Anonymous Designers besides talking about early women designers not receiving credit for their work, took a couple of vintage handbag patterns and made them her own, and even though they may not look exactly like the picture, it was her version of a wonderful vintage pattern.
Here's the pattern straight from the booklet, I've rewritten it below: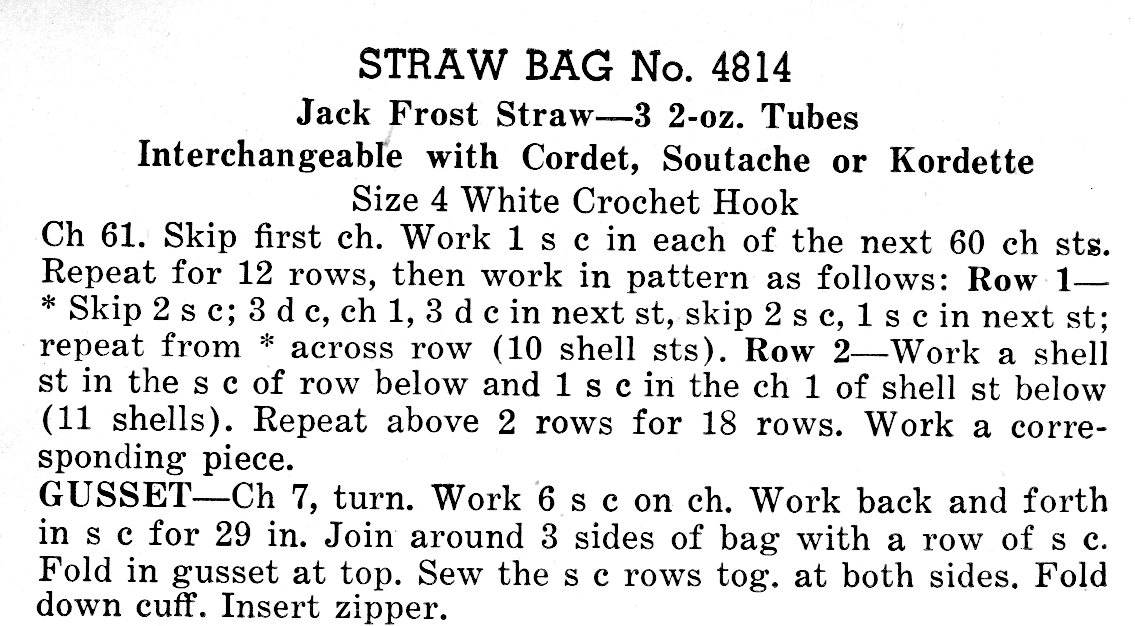 CROCHET ABBREVIATIONS
ch . . . chain
sc . . . Single Crochet
st . . . Stitch
sts . . Stitches
STRAW BAG No. 4814
Jack Frost Straw – 3 2-oz. Tubes
Interchangeable with Cordet, Soutache or Kordette
Size 4 White Crochet Hook
Shell = (3 d c, ch 1, 3 d c) in next st
Ch 61. Skip first ch. Work 1 s c in each of the next 60 ch sts. Repeat for 12 rows, then work in pattern as follows:
Row 1: * Skip 2 s c; (3 d c, ch 1, 3 d c) in next st, skip 2 s c, 1 s c in next st; repeat from * across row (10 shell sts).
Row 2: Work a shell st in the s c of row below and 1 s c in the ch 1 of shell st below (11 shells).
Repeat above 2 rows for 18 rows.
Work a corresponding piece.
GUSSET: Ch 7, turn. Work 6 s c on ch. Work back and forth in s c for 29 inches. Join around 3 sides of bag with a row of s c. Fold in gusset at top. Sew the s c rows together at both sides. Fold down cuff. Insert zipper.
A note on the GUSSET, it says to work back and forth for 29 inches, but the number of inches may vary depending on the thickness of the thread or yarn you are using. The best thing to do is as you're making the gusset, hold it against the length of the handbag's sides and bottom to gauge the length needed.
The zipper can be inserted by sewing machine or by hand. It's probably easiest to do it by hand. A fabric lining can be made for the inside of the purse by tracing around the bag on paper as a guideline, allowing for seams. Cut two fabric pieces for the front and back. Right sides together, sew around three sides, leave the top open. Fold the top edge over a quarter of an inch toward the wrong side, fold over again, then sew the edge down. Once your purse is assembled, insert the fabric liner and sew it in place.
Please share your favorite needlework hints, tips and projects in the comments below or with us on Facebook.
Enjoy!
This post contains affiliate links. For more information, please see my disclosure policy.