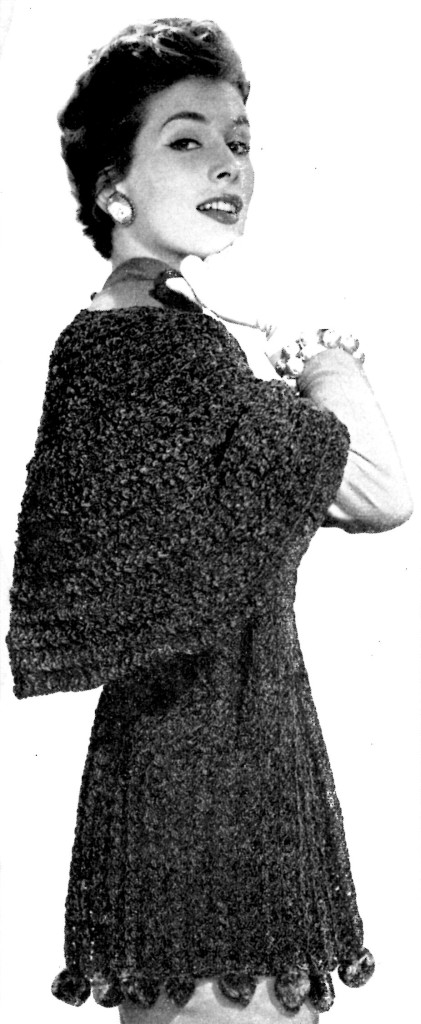 Welcome to this Friday's VTNS Fan Freebie!
The new year has begun and it's time for a free vintage pattern. Today's is a cozy, luxurious chenille shawl that's perfect for every occasion. Easy to crochet with your favorite Chenille Yarn and has the option to be trimmed with pompoms.
The Dritz Luxury Chenille Art No. 129 yarn required is no longer available. I've found a suitable substitute Lion Brand Chenille Yarn that comes in some wonderful colors or any soft and velvety yarn will do. 
It's a large shawl and calls for 14 skeins. Since I couldn't find how many yards were in the original skeins for the pattern  you'll have to go by the Gauge: 3 group sts = 2 inches; 2 rows = 1¼ inches, to determine how much you'll need.
The pompoms for the shawl were already made and bought as a set of 16. If you'd like to make pompoms (they're optional) to go on the ends of your shawl, this handy tool may help:
It comes with two sizes, it's a #1 best seller and has five star reviews from over 300 customers. Many of the reviewers say it's easier than the old way and makes making pompoms fast and simple.
If you'd rather trim your shawl in fringe, you'll find how to do that in this earlier blog post, How to Make Knotted Fringe or simply cut 4 strands of yarn 7½ inches long. Double the strands making a loop. Pull the loop through a stitch and draw the loose ends through the loop. Pull tight and trim evenly.

You can save or print this pattern by clicking on the image above, it will open in a new window or if you'd like to have a PDF of the pattern, that file is below:
The Velvet Touch Chenille Shawl Crochet Pattern PDF
The pattern is in PDF format so to read it you'll need the Adobe Reader software on your computer. Most computers come with it, but it is free and can be found here.
Download Instructions: Right-Click the link and select either "save target as" or "save link as" depending on what browser you are using or simply click on it and save or print.
If you like this page, be sure to share it with your friends and like our Facebook Fanpage so you can get updates every time we post new patterns.
Enjoy!

This post contains affiliate links. For more information, please see my disclosure policy.