Welcome to this Friday's VTNS (Vintage Textile and Needlework Sellers) Fan Freebie!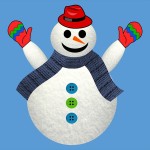 Knitted mittens are a great way to keep your little ones hands nice and warm while they're building a snowman!
Today's freebie is a cute set of knitted mittens from The Spool Cotton Company's 1943 book Woolies for Babies. This booklet features Chadwick's Red Heart Wools.  Any one who crochets or knits will probably be familiar with Red Heart yarn.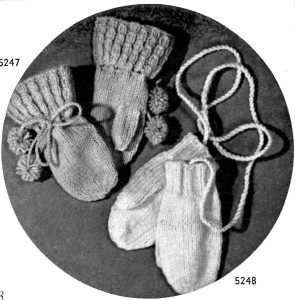 As a matter of fact the Red Heart Baby Econo Pompadour yarn required for this project is still available in some beautiful colors.
A set of Plastic Sock Needles in sizes No. 1 and No. 4 are needed for #5248 and only No. 4 are required for #5247.
I like this quote from the booklet:
 "So whether it's for your own young hopeful or your Sister Sue's….for the little lambkin down the lane or the cherub next door….remember everything's got to be snug as button, warm as a waffle, and ready for that brand-new citizen to nestle into."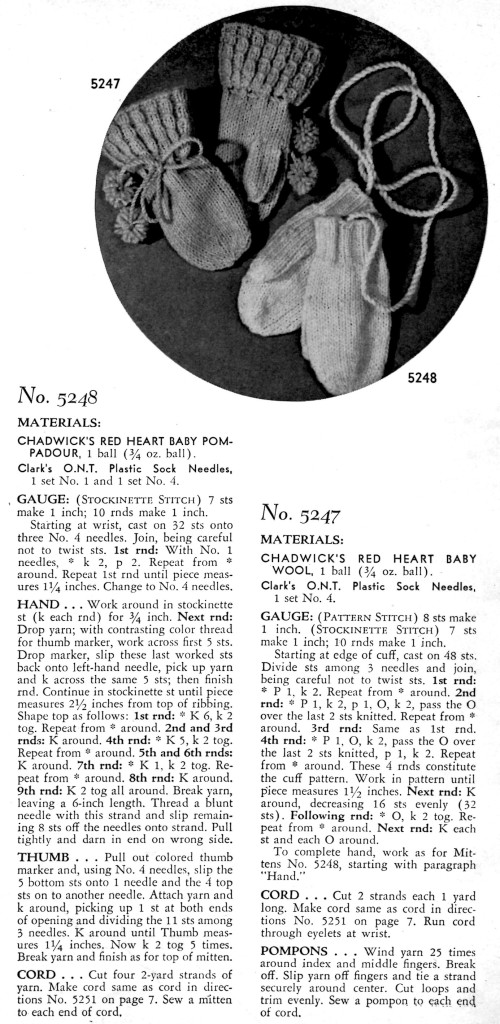 The one page PDF file is below:
Free PDF Download Pattern for Knitted Mittens
The patterns are in PDF format so to download it you'll need the Adobe Reader software on your computer. Most computers come with it, but it is free and can be found here. There are also free Adobe Reader Apps for mobile devices.
Download Instructions: Right-Click the link and select either "save target as" or "save link as" depending on what browser you are using or simply click on it and save or print.
If you like this page, be sure to share it with your friends and like our Facebook Fanpage so you can get updates every time we post new patterns.
Enjoy!
This post contains affiliate links. For more information, please see my disclosure policy.