Welcome to this Friday's VTNS (Vintage Textile and Needlework Sellers) Fan Freebie!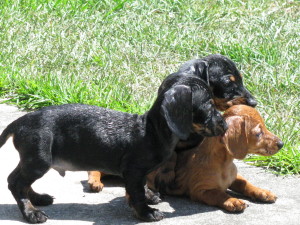 What is cuter than a crocheted animal toy? Not too much. The adorable Dachshund or Weiner dog as it's affectionately referred to, is the perfect size and shape to crochet into a stuffed toy.
This vintage pattern uses felt for the ears, legs, tail and facial features. It's taken from Quick to make Gifts Coats & Clark's 1955 booklet.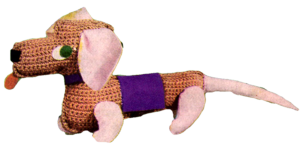 If you do a search on crochet amigurumi dachshund pattern on the internet, literally thousands of different crocheted toys will come up. Amigurumi is the Japanese art of knitting or crocheting small stuffed animals.
From Wikipedia: The word is derived from a combination of the Japanese words ami, meaning crocheted or knitted, and nuigurumi, meaning stuffed doll.
They are typically animals, but can take any form such as monsters, cartoon characters, ornaments and many more. Amigurumi started becoming popular in the West only recently in 2003. Since then, you can find them everywhere.
Here's the pattern to get you started. There's also a PDF file of the pattern to save or print below.

Dachshund Toy Crochet Pattern PDF
The pattern is in PDF format so to download it you'll need the Adobe Reader software on your computer. Most computers come with it, but it is free and can be found here. There are also free Adobe Reader Apps for mobile devices.
Download Instructions: Right-Click the link and select either "save target as" or "save link as" depending on what browser you are using or simply click on it and save or print.
I found a whole page of 5 star rated Amigurumi books on Amazon with dozens and dozens of different patterns. Great for gifts!
If you like this page, be sure to share it with your friends and like our Facebook Fanpage so you can get updates every time we post new patterns.
Enjoy!
This post contains affiliate links. For more information, please see my disclosure policy.