Welcome to this Friday's VTNS (Vintage Textile and Needlework Sellers) Fan Freebie!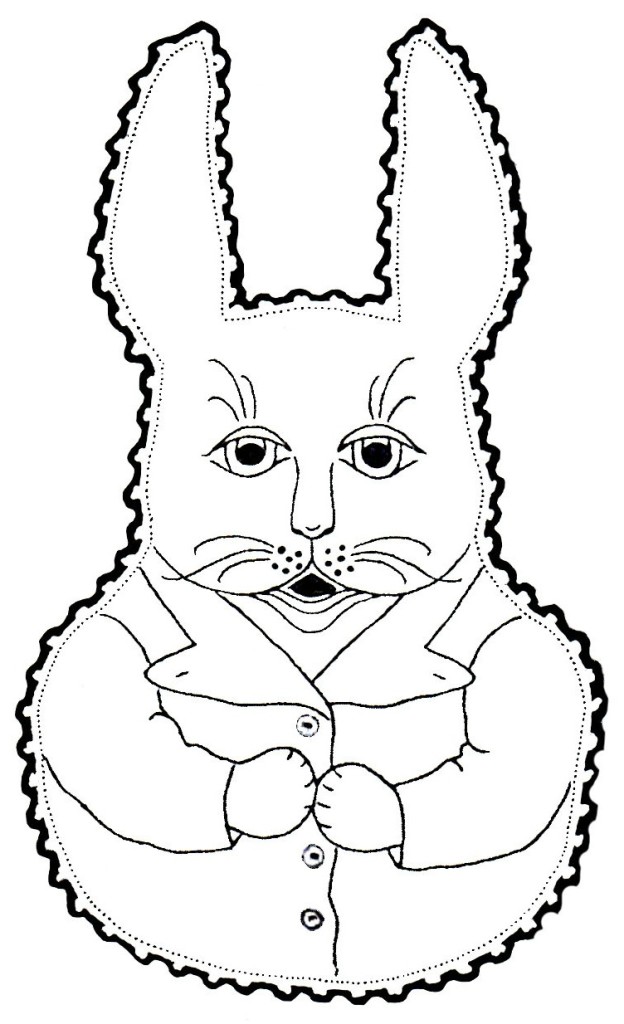 This cute embroidered Bunny Baby Bib comes from a 1922 Star Needlework Journal. Published by the American Thread Company, each magazine is filled with wonderful needlework patterns for crochet, embroidery, knitting, tatting and lace making.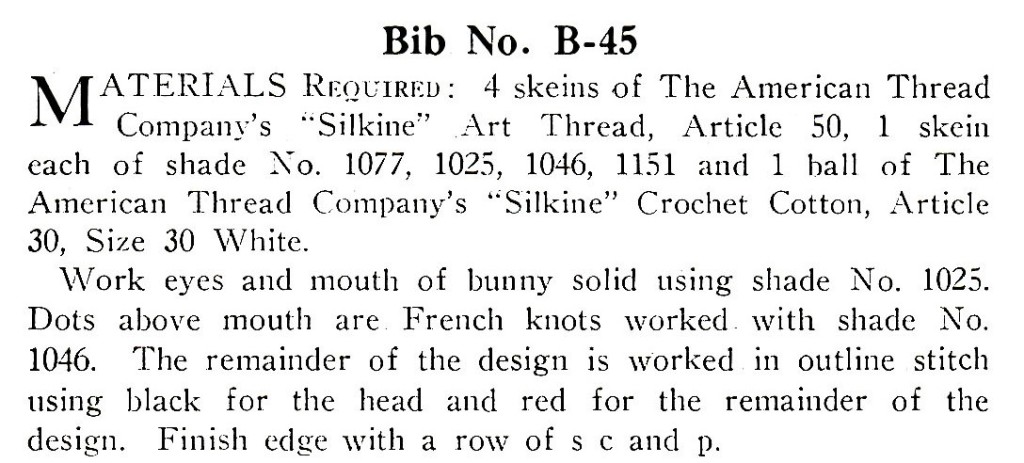 The type of material required is not stated so you could use just about anything that can be easily embroidered and probably washable, if you're going to be using it as a baby bib.
Enlarged, the design would make a nice quilted wall hanging.
The project uses American Thread Company's "Silkline" Art Thread and Crochet Cotton.
Article 50 – Silkline Art Thread is "an embroidery cotton of excellent brilliancy in a most artistic line of shades. The strands may be easily separated." It comes in six strands, skeins in white and colors.
Since American Thread Company has been out of business for a long time, I don't have a color conversion chart for the numbers used with the design so the choice of coloring would be yours.
Most of the outline stitch is worked using black for the head and red for the remainder of the design.
The Article 30 – Silkline Crochet Cotton is "smoothly spun and perfectly twisted as to give to the finished work a distinctive "lacey" feel."
The crochet cotton is used around the edge of the bib. You'll see at the bottom of the instructions a s c (single crochet) and p (picot) in a row to finish the edge. You'll find a handy how-to page on this blog post for these and other crochet stitches.
Below is the PDF file link to download for later:
Bunny Rabbit Baby Bib Embroidery Design
To read the one page PDF file, you'll need the Adobe Reader software on your computer. Most computers come with it, but it is free and can be found here. There are also free Adobe Reader Apps for mobile devices.
Download Instructions: Right-Click the link and select either "save target as" or "save link as" depending on what browser you are using or simply click on it and save or print.
If you like this page, be sure to share it with your friends and like our Facebook Fanpage so you can get updates every time we post new patterns.
Please share your favorite needlework hints, tips and projects in the comments below or with us on Facebook.
Enjoy!