Welcome to this Friday's VTNS Fan Freebie!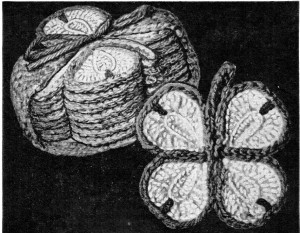 What's better than a lucky four leaf clover to celebrate St. Patrick's day? The 4-leaf clover is a variation of the 3-leaved clover or Shamrock (see this post for a Shamrock dish cloth knitting pattern), bringing good luck to anyone who finds one, especially if found accidentally.
Did you know there are approximately 10,000 three-leaf clovers for every four-leaf clover? Even so, collectors are not deterred and have even found clover with many more than four leaves.
These coasters are super absorbent and ready to keep those wet glass rings off your table. Today's crochet pattern is from a 1940's Enterprise Yarn booklet.
Enterprise yarn is discontinued but you can use Aunt Lydia's Cotton Crochet #3 as a substitute. A crochet needle size is not listed but based on the other patterns in the booklet, a Steel Crochet Hook No. 1 is used.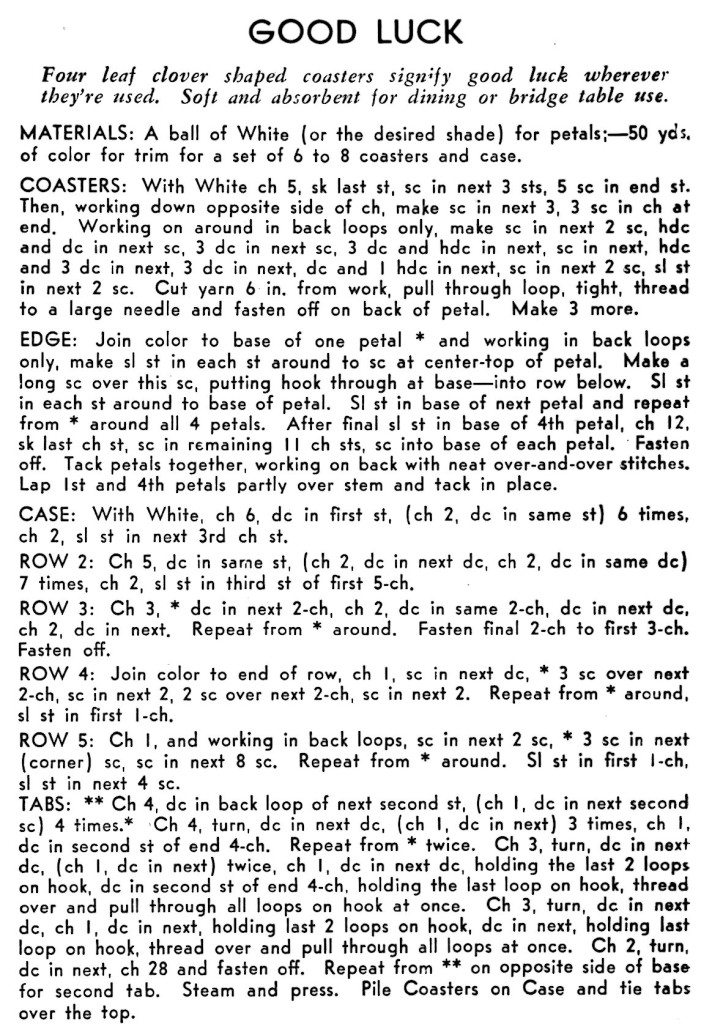 Another coaster crochet pattern from this booklet can be found in this post, Star Coaster Patterns.
Here's the PDF file from today to download for later:
Crochet Pattern – Good Luck Four Leaf Clover Coasters
To download the file you'll need the Adobe Reader software on your computer. Most computers come with it, but it is free and can be found here. There are also free Adobe Reader Apps for mobile devices.
Download Instructions: Right-Click the link and select either "save target as" or "save link as" depending on what browser you are using or simply click on it and save or print.
If you like this page, be sure to share it with your friends and like our Facebook Fanpage so you can get updates every time we post new patterns.
Enjoy!
This post contains affiliate links. For more information, please see my disclosure policy.