Welcome to this Friday's VTNS Fan Freebie!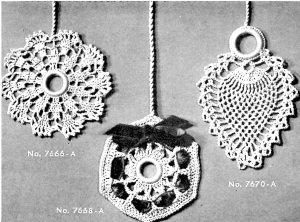 These crocheted shade or lamp pulls are called Match Mates. I found them in a vintage crochet pattern booklet of Chair Sets. When I saw them I immediately thought how pretty they would be as Christmas Tree Ornaments.
Small and easy to make, two of these pretty shade or lamp pulls – turned into ornaments – use extra fine Size 30 Mercerized Crochet Cotton, along with a steel crochet hook in sizes No. 10 or 11.
The middle one uses Size 20 Mercerized Crochet Cotton  and No. 8 or 9 steel crochet hook. Velvet ribbon is used for passing through the spaces and a bow.
Also 1/2 inch diameter rings are needed.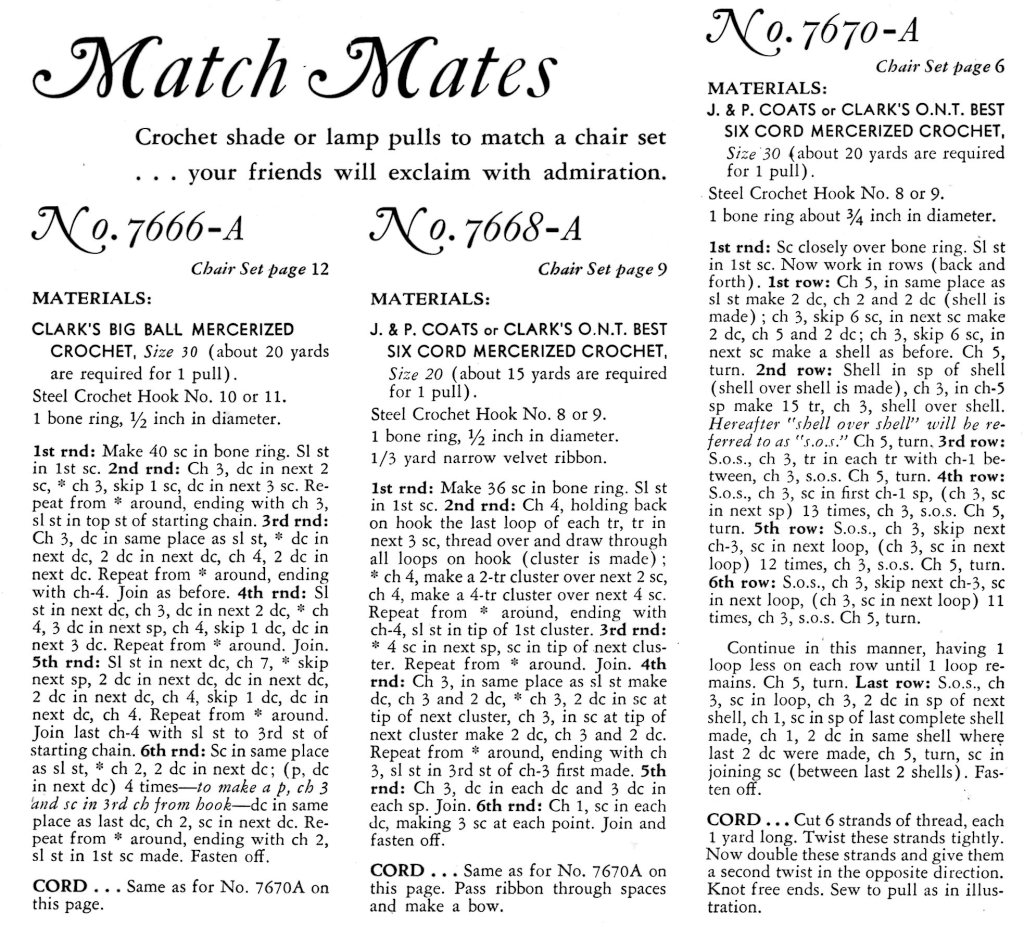 In this previous blog post, Vintage Thread Crochet Pattern Snowflake Star Ornament, I share several ways to stiffen these ornaments once you've crocheted them.
The one page PDF file to download is below:
Crochet Shade or Lamp Pulls as Christmas Ornaments
The pattern page is in PDF format so to download it you'll need the Adobe Reader software on your computer. Most computers come with it, but it is free and can be found here.
Download Instructions: Right-Click the link and select either "save target as" or "save link as" depending on what browser you are using or simply click on it and save or print.
If you like this page, be sure to share it with your friends and like our Facebook Fanpage so you can get updates every time we post new patterns.
Please share your favorite needlework hints, tips and projects in the comments below or with us on Facebook.
Enjoy!
This post contains affiliate links. For more information, please see my disclosure policy.