Smocking
I've always admired those pretty smocked heirloom baby dresses and bonnets. I didn't realize until researching this post that the smocking technique was a way to stretch fabric before elastic.
It started its use on common every day, ordinary garments instead of an embellishment for children's items as we use it today. In the middle ages this needle art could be seen used on cuffs, bodices and necklines.

Smocking is a decorative method of gathering fabric developed in England. It was commonly found on the clothing of laborers and farmers because of its practicality in making garments flexible.
For a library of images of 18th and 19th century smocked clothing visit The Museum of English Rural Life.
Materials
Nowadays, it's a wonderful decorative hand or machine embroidery for children's clothing and the yokes of women's dresses. Embroidery floss is often used and the width of the fabric required is 3 times the width of the finished piece.
Soft materials, such as voile, chambray, gingham and fine linen are the best fabrics to use for smocking, however, dotted swiss and light weight wools and rayons can also be used.
Using an embroidery thread in a contrasting color gives the prettiest effect, though white on white smocking can give a very rich appearance.
Embroidery Stitches and Designs
There are an endless variety of designs. Most combine several smocking stitches to carry out the pattern and add complimentary embroidery stitches such as Bullion Rose or Lazy Daisy flowers to enhance the design. Usually, the smocking designs are worked before the garment is sewn together.
Here's a link to The Art of Smocking: How To Guide that lists the most frequent stitches used with illustrations and instructions from Tipnut.
Foundation Steps: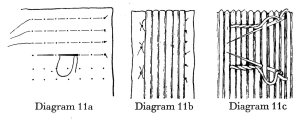 Basically, all smocking designs use a foundation made of dots. The dots are drawn on the fabric by hand or transferred using transfer paper. Dark materials require use of a light colored tailor's chalk. In the 1950's, pleating machines where available for smockers at home.
The most recognized form of smocking is the honeycomb effect. To practice this form of smocking, mark about six rows of dots on a small piece of material. Make the dots a quarter inch apart, and the rows the same distance from one another, placing dot under dot, so the lines run square and true in both directions. The work progresses from the upper left dot across two rows to the right.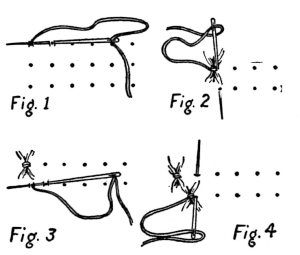 Bring the needle up through the upper left dot, keeping knot on wrong side of the fabric. Pick up a few threads under next dot to right, cross needle back to first dot and pick up a few threads under it. Draw together quite tight, and insert needle at second dot again, pointing to corresponding dot in row immediately below.
Sew from this dot to the one to right of it, as before. Insert needle once more in the last dot and bring it up in next dot of first row, directly above. Repeat for length desired. Continue making this pair of rows until the smocking is as wide as desired. You will note that the first dot in the even rows in not used.
Honeycomb Pattern:
YouTube Demonstrations
Use these two YouTube videos that show a simple smocking stitch to get you started.
How To Do Smocking on Fabric by Rose and Honeycomb Smocking Tutorial
There's a Smocking Arts Guild of America (SAGA) that offers classes, retreats, newsletters and much more. They have a large online and social media presence.
Christmas Ornament Pattern:
Maggiebsmocks shares a pretty Cable one, Trellis two, a free Christmas Ornament Design pattern here.
PDF file you can download for later:
The guide is in PDF format so to read it you'll need the Adobe Reader software on your computer. Most computers come with it, but it is free and can be found here.
Download Instructions: Right-Click the link and select either "save target as" or "save link as" depending on what browser you are using or simply click on it and save or print.
If you like this blog, be sure to share it with your friends and like our Facebook Fanpage so you can get updates every time we post new patterns.
Enjoy!
This post may contain affiliate links. These affiliate links help support this site. For more information, please see my disclosure policy. Thank you for supporting Vintage Crafts and More.