It's the last Friday in August and before we skip right on over to Christmas (like many stores do way too early), here's a summer time crochet pattern for a ladies sandal made with rug yarn.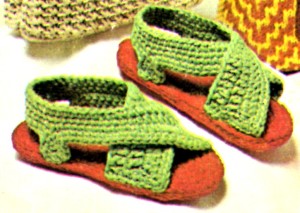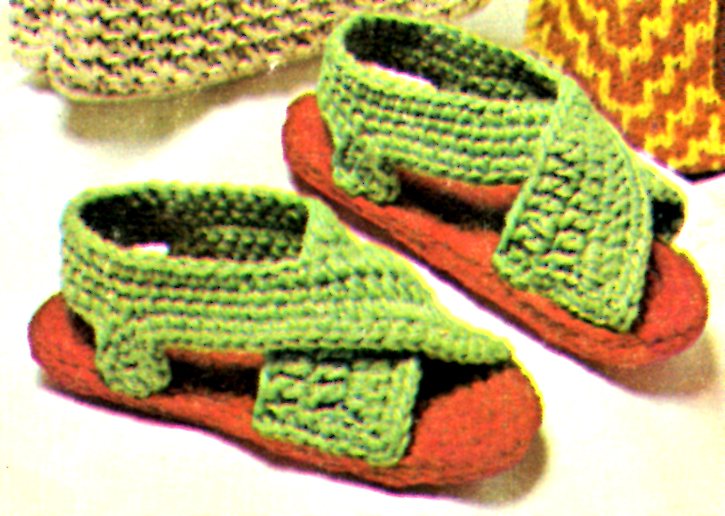 When I first saw them, they reminded be a little of a bohemian or hippie style. Clunky, but sturdy and useful none the less.
This crochet pattern comes from a vintage Coats & Clark's booklet on rug yarn projects. I'll share more patterns from this useful little booklet sometime soon.
Directions are given for Women's Size and changes for Men's Size are in parentheses. Size is determined by the purchased pairs of foam rubber insoles.
You'll need three 70 yard skeins of rug yarn. Two for the sole of the sandal and one for the straps. The gauge is 10 sc = 3 inches; 2 rnds = 3/4 inch and a Size H crochet hook is used.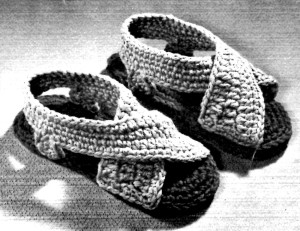 Below you'll find the link to the instructions. It's a one page PDF file to download to save for later.
Free Crochet Pattern for Ladies Sandals PDF
The pattern is in pdf format so to read it you'll need the Adobe Reader software on your computer. Most computers come with it, but it is free and can be found here.
Download Instructions: Right-Click the link and select either "save target as" or "save link as" depending on what browser you are using or simply click on it and save or print.
If you like this page, be sure to share it with your friends and like our VTNS Facebook Fanpage so you can get updates every time I post new patterns.
Please share your favorite needlework hints, tips and projects in the comments below or with us on Facebook.
Enjoy the rest of summer!