Welcome to this Friday's VTNS Fan Freebie!
I just love looking at Irish Crochet lace. The beautiful work is fascinating to me. I have the Priscilla Irish Crochet Book from 1909 and flipping through the pages there are photographs of a wonderful Irish Crochet dress and jacket.  In a blog post from last year I shared a couple of the pictures included in the book.
Today's pattern came from a 1939 Spool Cotton Company (later know as Coats and Clark) Irish Crochet Lace booklet.  To celebrate St. Patrick's Day coming up, I'm sharing a Shamrock pattern done in Irish Crochet.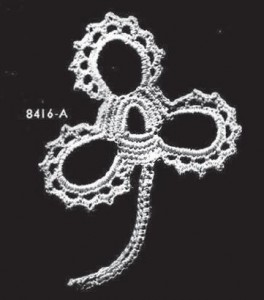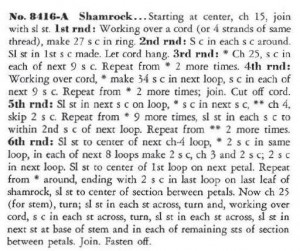 Irish crochet stitches should be uniform, close and compact. Most Irish Crochet is made up of cotton thread, but silk or linen thread can be used as well. The finer the thread the more delicate the piece of lace. Individual motifs are made and then joined together with a freeform crochet stitch.
Many Irish crochet patterns call for the use of No. 70 crochet cotton. For the Padding Cord a No. 10 crochet cotton is used and usually a fine crochet hook such as 1.0mm or 0.6mm.
Here is a video from lacefromireland (Lace From Ireland) on YouTube that demonstrates making an Irish Crochet Shamrock similar to the pattern today. No words, instructions are written on the screen through out and some pleasant music to listen to while you watch. Amazing crochet work! She uses a No. 80 thread, No. 10 cord and a 0.6mm hook.
Pattern in PDF file format to save for later:
Irish Crochet Shamrock Pattern
The pattern is in PDF format so to download it you'll need the Adobe Reader software on your computer. Most computers come with it, but it is free and can be found here.
Download Instructions: Right-Click the link and select either "save target as" or "save link as" depending on what browser you are using or simply click on it and save or print.
Enjoy!