Welcome to this Friday's VTNS Fan Freebie!
Have you ever wanted to add those amazing trims you've seen on designer items for your home? This post will show you how to make eleven different types of trims that are clever and simple.
This one is a 3 Knot Fringe: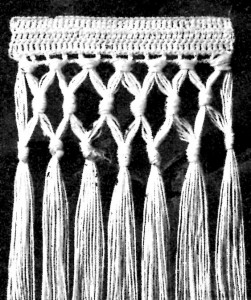 Take 10-16 inch strands of cotton, loop through mesh, draw ends through loop and tighten, skip one mesh, repeat all around. * Take half of one group of fringe and half of next group of fringe, knot together 3/4 inch from 1st row of knots. Repeat all around, then repeat from * for another row of knots. Trim fringe evenly.
This one is Crocheted Ball Fringe: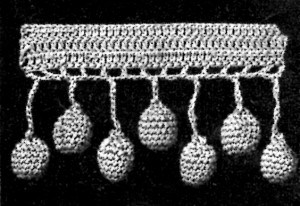 Ch 4, join to form a ring, ch 1, 8 sc into ring, join.
Next Row: 2 sc in each sc, without joining rows work 2 rows of sc working 1 sc in each sc, break thread.
Fringe: Wind 20 strands over a 6 inch cardboard, cut both ends, tie in center, pull thread through center of crocheted cap. Draw threads through mesh, then back through crocheted cap and tie. Trim fringe evenly.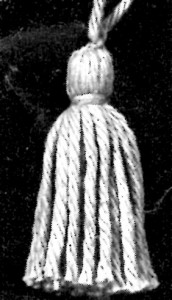 A favorite…The Tassel
Wind 20 strands over a 3 inch cardboard, cut one end, tie in center, then tie about 3/4 inch down from top.
One more…………A Covered Button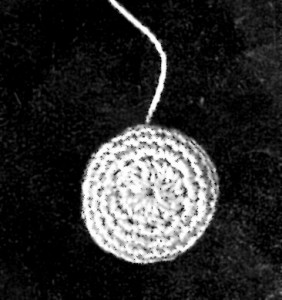 Ch 3, 12 dc in 1st st of ch, without joining rows, work 4 rows of sc increasing a sufficient number of times to keep work flat. Insert button mold and work rows of sc decreasing as necessary to fit back of button mold.
If you'd like to take a look at the other eight I've made a PDF file that shows all of them.
Eleven Clever Trims for the Home
The pattern is in PDF format so to download it you'll need the Adobe Reader software on your computer. Most computers come with it, but it is free and can be found here.
Download Instructions: Right-Click the link and select either "save target as" or "save link as" depending on what browser you are using or simply click on it and save or print.
Enjoy!