Just in time for Valentine's Day a beautiful Red Rose to embroider!
This lovely embroidery flower pattern comes from a booklet by Belding Bros & Co. Silk Manufacturers, Revised Needle and Hook published in 1903.
The color plate pictured to the left is called the Liberty Rose. It accompanies the instructions and silk thread color chart.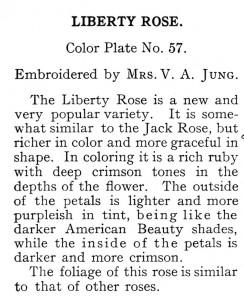 Visit this blog post for another pretty floral embroidery pattern from this book.
You may be able to find some Belding Bros 1900s silk thread that will coordinate with the numbers given, but most likely you'll need to substitute matching colors from a modern company.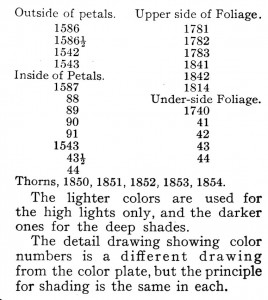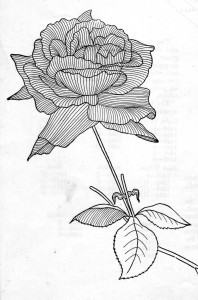 This illustration shows which way to embroider your stitches to achieve the shading for the flower.
The color plate is a different drawing but the shading is the same for each.
Below is the 2 page PDF file with the color plate and instructions to download:
Red Rose Silk Embroidery Pattern
The pattern is in PDF format so to download it you'll need the Adobe Reader software on your computer. Most computers come with it, but it is free and can be found here.
Download Instructions: Right-Click the link and select either "save target as" or "save link as" depending on what browser you are using or simply click on it and save or print.
Enjoy!
If you like this page, be sure to share it with your friends and like our Facebook Fanpage so you can get updates every time we post new patterns.  Please share your favorite type of embroidery, hints, tips and projects in the comments below or with us on Facebook.