Welcome to this Friday's VTNS Fan Freebie!
President's Day is coming up and I thought it would be fun to share a replica of a quilt pattern that was made and presented to Mrs. Frances Cleveland while she was First Lady. The quilt design is called Mrs. Cleveland's Choice.
This vintage quilt pattern came in a package of Lockport Cotton Batting. As a bonus, many companies include quilt pattern designs and instructions in their packages of batting.
This was a new design created from an admirer who was skilled in the art of patchwork. It is said that this quilt was cherished by Mrs. Cleveland and one of her favorites.
The colors used reflect the time period, red, green and a yellowish brown, but many other color combinations could be used.
The quilt is made up of 10 inch blocks and 32 are required for a 70 x 90 inch quilt. Click on the picture to see a larger version that opens in a new window.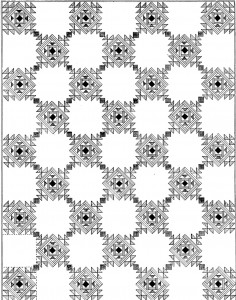 Grover Cleveland was the 22nd (1885-1889) and 24th (1893-1897) President of the United States. He is the only president to serve two non-consecutive terms.
At the age of 21, Frances Folsom became President Cleveland's wife in a ceremony at the White House on June 2, 1886 making her the youngest First Lady. He is the only President to be married there.
President Cleveland was 49 making the difference in their ages 27 years. As you can imagine, the media couldn't get enough of her and the interest was intense. She won them over with her charm as a hostess and her popularity grew.
She is also the first presidential widow to remarry. After her husband died in 1908 she remarried in 1913 at the age of 49.
Another interesting fact about her is that she held the position of national president of the Needlework Guild of America in the 1930s. During the Great Depression she led a clothing drive for the poor.
If you have any quilting you've done that you'd like to share, feel free to post a photo on our VTNS Fanpage, we'd love to see your work.
This file includes the templates and instructions for making this pretty and interesting quilt:
Quilt Pattern Mrs Clevelands Choice PDF
The pattern is in PDF format so to download it you'll need the Adobe Reader software on your computer. Most computers come with it, but it is free and can be found here.
Download Instructions: Right-Click the link and select either "save target as" or "save link as" depending on what browser you are using or simply click on it and save or print.
Enjoy!