Welcome to VTNS (Vintage Textile and Needlework Sellers) Fan Freebie Friday!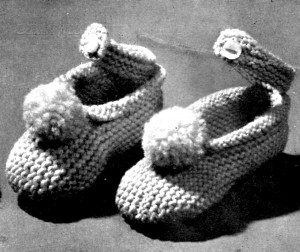 Today's vintage pattern is for a cute pair of Infant's Ankle Strap Shoes. It's a knitting pattern from a 1943 Minerva baby booklet. They are done in a Size 1 with Minerva Germantown yarn which was 100% Virgin Wool in a 4 fold 1 oz ball that was about 105 yards. The pair of knitting needles used is  Size 2 – 10 inches long.
The pattern uses a the Garter and Stockinette stitch.
GARTER STITCH: (Plain Knitting) K. every row.
STOCKINETTE STITCH: K. 1 row, P 1 row alternately.
Here are instruction videos for these knitting stitches from WikiHow:
http://www.wikihow.com/Knit-the-Garter-Stitch
http://www.wikihow.com/Knit-Stockinette-Stitch
Once you've finished these cute shoes a Pom-Pom can be added as trim. Here's a step-by-step of how to make a Pom-Pom.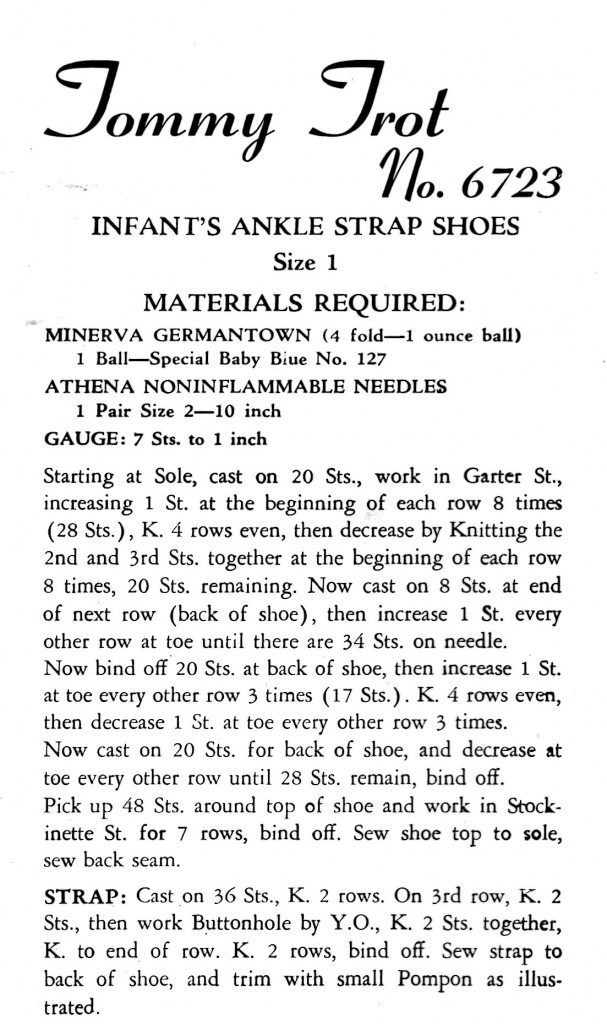 If you'd like the pattern in PDF format to save for later, here is that file:
Infants Ankle Strap Shoes Knitting Pattern
This file  is in PDF format so to download it you'll need the Adobe Reader software on your computer. Most computers come with it, but it is free and can be found here.
Download Instructions: Right-Click the link and select either "save target as" or "save link as" depending on what browser you are using or simply click on it and save or print.
If you like this page, be sure to share it with your friends and like our Facebook Fanpage so you can get updates every time we post new patterns. Please feel free to share your favorite type of embroidery, hints, tips and projects in the comments below or with us on Facebook.
Enjoy!