Knit a Quick Gift
Do you need a quick Christmas present? This wonderful vintage Knitted Striped Scarf pattern can be done in a jiffy. You may even have enough yarn in your stash so you won't have to go out and buy more.
Lots of Possibilities
What about using team colors to wear at the game or your little ones favorite colors? Even easier would be using just one color yarn. Lots of possibilities with this scarf! It is knitted to form a tube that leaves no seams. It's 9 x 60 inches without the fringe.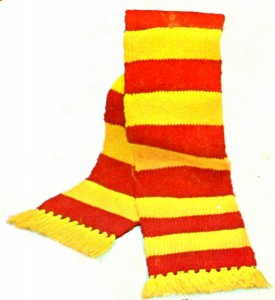 Here's how you add fringe to a scarf or any item you've crocheted or knitted:
First, find an item to wrap your yarn around (this pattern suggests 9 inch long strands, so an object 4.5 inches would do that). Wind the yarn around your item, loosely enough so that your scissors can get underneath to cut it. Cut the yarn from the skein then cut it from your form. Now you have several pieces of yarn all the same length.
Decide how many pieces you'd like to use for your project (this pattern suggests 5 strands for one fringe). Fold the pieces in half. Start with the right side of your project facing up. Insert a crochet hook in the first loop from the bottom up. Take the pieces folded in half, hook them and pull them through. Now take the ends and push them through the loop that is made folding the pieces in half.
Pull the free ends gently and evenly. Continue down the edge of your project.
Items You'll Need
You'll need 4 Ply Knitting Worsted yarn. 3 two ounce skeins in each color and a pair of No. 11 Knitting Needles. Gauge is 10 sts = 3 inches; 10 rows = 1 inch.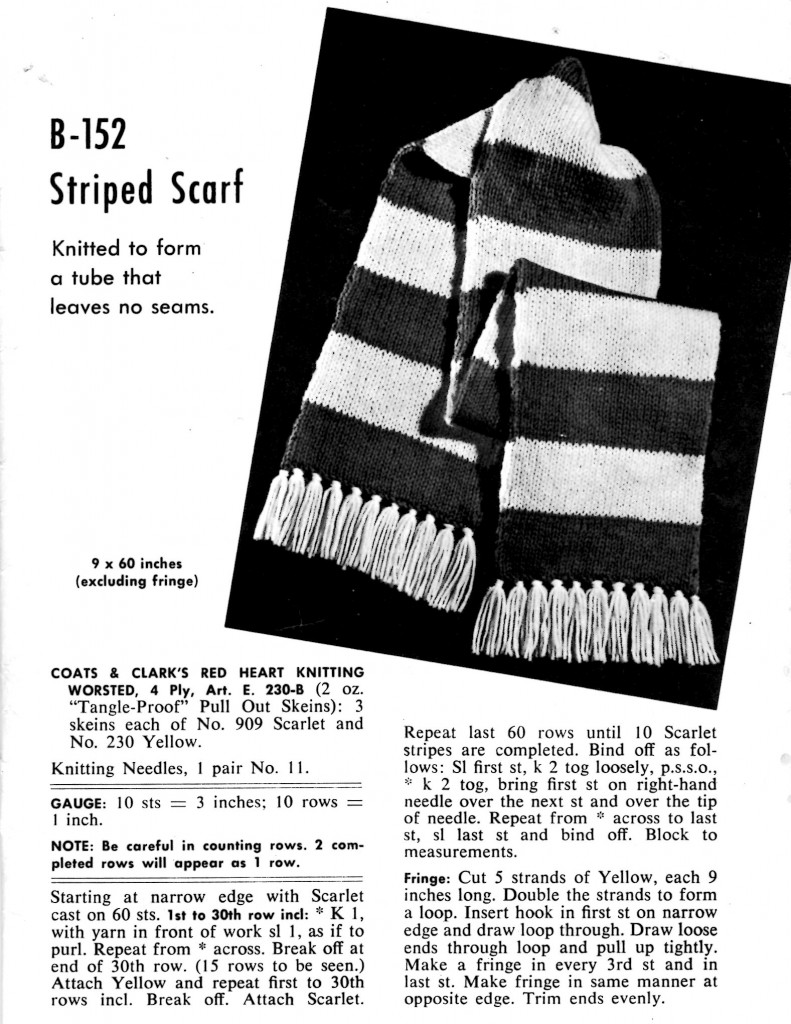 Share What You've Made
What gifts did you create this year? If you'd like to share, please be sure to stop by our VTNS Facebook Page and let us know.
PDF File Download
Here is the PDF download for the pattern:
Knitted Striped Scarf Pattern PDF
The pattern is in PDF format so to download it you'll need the Adobe Reader software on your computer. Most computers come with it, but it is free and can be found here.
Download Instructions: Right-Click the link and select either "save target as" or "save link as" depending on what browser you are using or simply click on it and save or print.
Enjoy!
This post may contain affiliate links. These affiliate links help support this site. For more information, please see my disclosure policy.