Welcome to this Friday's VTNS (Vintage Textile and Needlework Sellers) Fan Freebie where we share all types of vintage needlework patterns.
These stitches are taken from an 1867 Godey's Lady's Book and Magazine. The parentheses are mine.
The color threads, silk and wool, in the instructions sound beautiful. I can just imagine how lovely these stitches would look in color. Unfortunately, they are in black and white in the magazine.
TWO NEW STITCHES IN BERLIN WORK
These stitches form pretty patterns for slippers, bags, footstools, cushions, etc.
Fig. 1. This pattern is worked over common canvas – not Penelope (usually used  for Petit Point where the canvas threads are split for very small stitches) – with black wool and crimson silk. The illustration shows part of it completed and part unfinished. (click on the picture, it will open in a new window for a close up)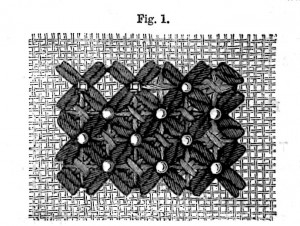 The large crosses are worked slantways, each stitch over three threads of the canvas; the spaces between are filled up with double crosses in red silk. A round white bead is placed in the center of each black cross.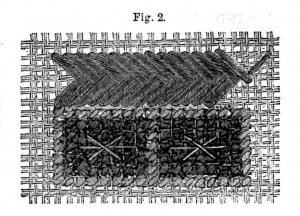 Fig. 2. consists of a plait pattern and squares in cross stitch. The plait (braid, interweave) is formed of slanting stitches over six threads placed alternately two over and two under. The holes in which each of the next two stitches are to be begun are marked by a cross and a dot.
This plait is worked in crimson wool. The squares in cross stitch are worked in black wool, with a border in yellow silk. A cross is worked in point russe (a succession of back stitches following the line of a design), with the same silk, over each square alternate rows.
For more information on Embroidery and Berlin Work there are two previous posts that share more details.
Enjoy!