Welcome to VTNS (Vintage Textile and Needlework Sellers) Fan Freebie Friday where we share all types of vintage needlework patterns.
Ruffled doilies were populst back in the 1950s when this pattern was published. The booklet by Coats & Clark's is nothing but Ruffled Doily patterns.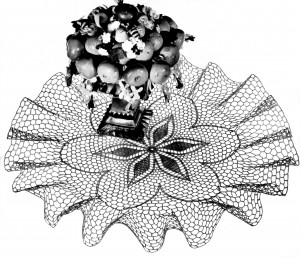 They are compared to lace, "Frills of frothy lace for the delicate decoration of your occasional tables." Oh my, what is an occasional table? Every table in my house is used more than occasionally.
Funny aside, this 17¼ inch ruffled lace doily would compliment any table, no problem.
Made using Mercerized Crochet Cotton and a No. 9 Steel Crochet Hook the pretty poinsettia in the middle makes it perfect for the holidays.
Here's the 2 page PDF file:
Ruffled Doily Crochet Pattern ~ Poinsettia Posy
The pattern is in PDF format so to download it you'll need the Adobe Reader software on your computer. Most computers come with it, but it is free and can be found here.
Download Instructions: Right-Click the link and select either "save target as" or "save link as" depending on what browser you are using or simply click on it and save or print.
If you make this pattern or any others you'd like to share, please be sure to visit our VTNS Fanpage and post a photo, we'd love to see your work.
Enjoy!