Welcome to VTNS (Vintage Textile and Needlework Sellers) Fan Freebie Friday!

As early as the mid 1800s, women would take burlap feed bags, which were too rough a fabric to make into clothing or quilts, and use them as backing for rugs. Unable to afford the beautiful imported rugs from Europe, they would use rags to hand hook their own rugs. The rugs helped make their homes comfortable and warm.
Making rugs became a popular hobby in the 1940s and the craft is seeing a come back with the primitive wool penny rugs you can make today.
Today's pattern and instructions are for making a burlap rug with rug yarn. I believe this Minerva Hooked Rug pattern and instruction was originally a kit. I found it without the kit and picked it up because of the pictures of the old rug hooking tools, the pattern and information about rug hooking.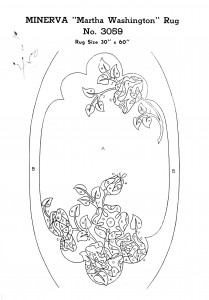 This Martha Washington Rug Pattern is floral and the finished size is 30 x 60 inches. It uses traditional colors of rose, tan and green. You'll need to enlarge and transfer the pattern onto burlap or whatever material you'll be using. This article, Selecting and Transferring Your Pattern, from Rug Hooking 101 explains how to use tulle to transfer your pattern.
Most of us are familiar with the latch hook rug kits from the 70s you can still find and purchase unmade today. My favorite was a landscape of a sunset on the beach with the golden yellows and browns of the era.
I've found a couple YouTube videos that explain rug hooking. There does seem to be a lot of information about rug hooking on the internet, but not as much as you'd find for crochet or knitting.
Here is a great 9 minute basic tutorial by Gene Shepherd Rug Hooking.
This video is a hands-on how to Part 2: Rug Hooking with Yarn by Susie Stephenson. It's 20 minutes long, but has some great information on basic rug hooking.
I hope this post helps you decide if you'd like to pursue making your own rug or not. I know when I was researching to write this post, I found that rug hooking may not be as hard as I thought and the designs you could do are endless. I might give it a try.
Here's the pattern in PDF file format:
Rug Hooking Pattern and Info PDF
The pattern is in PDF format so to download it you'll need the Adobe Reader software on your computer. Most computers come with it, but it is free and can be found here.
Download Instructions: Right-Click the link and select either "save target as" or "save link as" depending on what browser you are using or simply click on it and save or print.
Enjoy!