Welcome to VTNS (Vintage Textile and Needlework Sellers) Fan Freebie Friday!
Father's Day is coming up and today we're sharing a football themed doll made of rug yarn from the vintage booklet Doodle Dolls, Simple and easy-to-make!
The booklet states, "These are about the simplest dolls in the world to make. A few winds around a cardboard, a tie and decoration with ribbon or felt and you have an enjoyable companion for a college dorm or your favorite nursery".
This doll is a combination of winding yarn on cardboard and crochet, with a little felt for the face.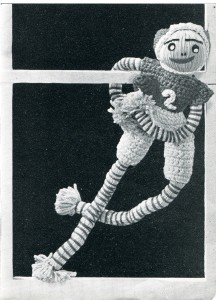 To begin this doll, you'll need follow the Basic Doll instructions below and a pretty good size piece of cardboard to wind the yarn around. The yarn used is heavy rug yarn.
BASIC DOLL
Wind yarn 96 times over a 22 inch cardboard, tie one end, cut other end. Tie again 4 inches below first tying for head section. Fill head section with cotton, then tie again 3 inches below last tying for body section. Divide yarn in half, then divide each half into thirds and braid each section tightly for legs. Tie each leg about 1 inch from bottom, trim evenly.
ARMS: Wind yarn 48 times over an 18 inch cardboard. Slip from cardboard, tie at center, then cut both ends. Divide each arm section in thirds, braid and trim same as legs. Insert arms.
*****************************************************************
Aunt Lydia's Heavy Rug Yarn isn't made anymore. You can sometimes find vintage skeins for sale. A replacement could be Caron Craft & Rug Yarn made of 100% Acrylic. It comes in a 43 yard, 1.5 ounce skein in a variety of colors.
The yarn color listed for this doll is Cork, Blue and Buttercup, but if you have other school colors you'd like to use they can be easily substituted. Make some for the whole team!
I've written out the instructions here, but below is a PDF file you can download if you like.
FOOTBALL HERO DOLL
Materials Required:
AMERICAN THREAD COMPANY
"AUNT LYDIA'S" HEAVY RUG YARN, Article 235
3 skeins Cork
l skein each National Blue and Buttercup
2 inch x 2 inch Section Red and Black felt
Aluminum Crochet Hook No. G
With Cork work Body over a 26 inch cardboard in same manner as Basic Doll. Do not braid arms and legs. Tie 5 inches from 1st tying for head section, fill with cotton.
Wind cork over a 21 inch cardboard for arms, tie about 1 inch from each end for hands. Attach National Blue at top of hand tying and wind tightly over entire arms winding twice around arms and having about 1/2 inch of Cork showing through as illustrated. Fasten National Blue at other hand and trim hands evenly.
Insert arms, tie again 2 1/2 inches below for waist, then tie again 1 inch below. Divide lower section into 2 equal parts for legs. Tie National Blue about 5 inches from waist and work leg stripes same as arms. Trim legs evenly.
VEST: With National Blue chain (ch) 10, 1 single crochet (sc) in 2nd stitch (st) from hook, 1 sc in each st of ch, ch 1, turn.
2nd Row: 1 sc in each sc, ch 1, turn.
3rd Row: Work 1 sc in each sc working 2 sc in 1st and last sc, ch 1, turn. Repeat last row 3 times, then work 3 rows even, cut yarn. Work another section in same manner.
PANTS: With Buttercup work First 3 rows same as Vest.
Repeat 3rd row of Vest 2 more times.
6th Row: 1 sc in each of the next 7 sc, ch 1, turn (leg part). Repeat last row until leg measures 4 1/2 inches or length desired, cut yarn.
With wrong side of 5th row toward you skip center st, attach yarn in next st and work other leg to correspond, cut yarn. Work another section in same manner. Sew Pants section to Vest section at waist line. Place on body, join back section to front section by sewing First 6 sts on each shoulder.
Sew underarm and pant seams as illustrated.
HELMET: With National Blue ch 3, join to form a ring, ch 1 and work 6 sc in ring, do not join. Place a marker at beginning of each round.
2nd Round: 2 sc in each sc.
3rd Round: 1 sc in each sc.
4th Round: 1 sc in each sc increasing 4 sts evenly spaced.
5th Round: Same as 4th round, sl st in next st to even round, cut yarn. Work another section in same manner (side sections).
Center section of Helmet. With Buttercup ch 13, 1 sc in 2nd st from hook, 1sc in each st of ch, ch 1, turn.
2nd Row: 1 sc in each sc, ch 1, turn. Repeat last row twice, cut yarn.
With Buttercup crochet center section to side sections of Helmet and work a row of sc all round helmet, cut yarn.
CHIN STRAP: With Buttercup ch 15, slip stitch (sl st) in 2nd st from hook, 1 sl st in each st of ch, cut yarn and sew in position at each side.
NUMBER: With Buttercup ch 15, cut yarn. Shape number desired and sew to center of Vest.
FACE: Cut eyes and eyebrows of Black felt, nose and mouth of Red felt and paste in position.
FOOTBALL: With Buttercup work first 2 rows of Helmet, then work 6 more rows even. Fill with cotton.
Next Row: Decrease in every 2 sts (to decrease: insert hook in next st, pull loop through, insert hook in next st, pull loop through, yarn over and pull through all loops at one time).
Repeat last row once, cut yarn.
Rug Yarn Football Doodle Doll Pattern PDF
The pattern is in PDF format so to download it you'll need the Adobe Reader software on your computer. Most computers come with it, but it is free and can be found here.
Download Instructions: Right-Click the link and select either "save target as" or "save link as" depending on what browser you are using or simply click on it and save or print.

Enjoy!