Welcome to this Friday's VTNS Fan Freebie!
Spring has sprung and I'm ready to get out in the garden. I know many of our members enjoy gardening and the lovely flowers in their yards. To lessen our garden labor, today we're featuring a pattern for a garden apron.
That reminds me. I saw a cute saying on the ad board outside my  neighborhood garden center. It goes like this, "Spring has sprung and we're so excited we wet our plants."  A little corny, but I thought it was funny.
In an article from a 1922 Home Arts Magazine entitled Equipment to Lessen Garden Labor there is a pattern for an Apron for Tools. Besides having to do a little measuring, it's very easy and will work for all sizes.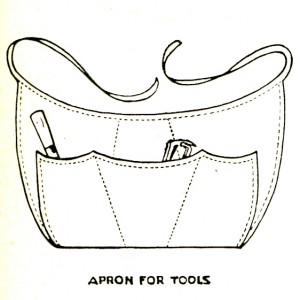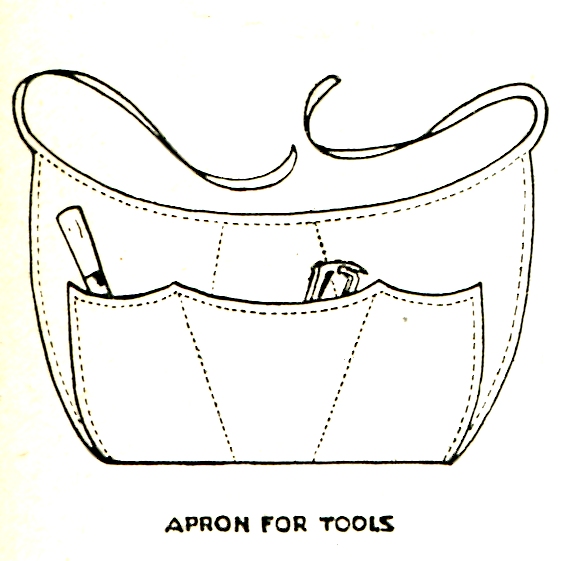 ONE—HALF yard of cloth and 3 yards of tape for binding is sufficient material for this garment. Cut a pattern by dimensions given in the illustration. Bind the edges with tape. Use one piece 60 inches long for binding sides and bottom of apron.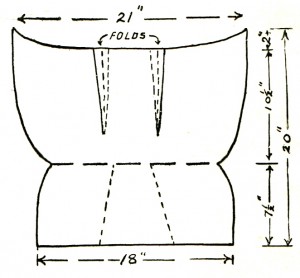 To fit the apron cut it out a little across the top, allowing center of the top to be curved downward about 2 inches lower than the top of the sides.  Place a half-inch dart 2 inches from the center on each side of the top. Taper these darts to a point 4 inches above the bottom of the pocket and stitch them in place.
Hem the ends of a piece of tape 36 inches long and bind the top of the apron, leaving an even length on each side for tying strings. Fold the pattern on the dotted line and stitch to form the pockets. The center pocket stitched in "V" shape will leave a slanting pocket on each side.
The handles of the tools carried in these pockets will not interfere with the arms at work.
If you do better with a step-by-step photo tutorial, you'll find this tutorial for a similar Garden Apron on the Make it Do blog.
*** A comment was made about how to sew this apron. I realized in looking back over it, that a diagram that I included in the original post, shouldn't have been there. It was for the Garden Kneeling Pad that was also shown in the article as you can see below. Sorry for the mix up.  I've made the correction. ***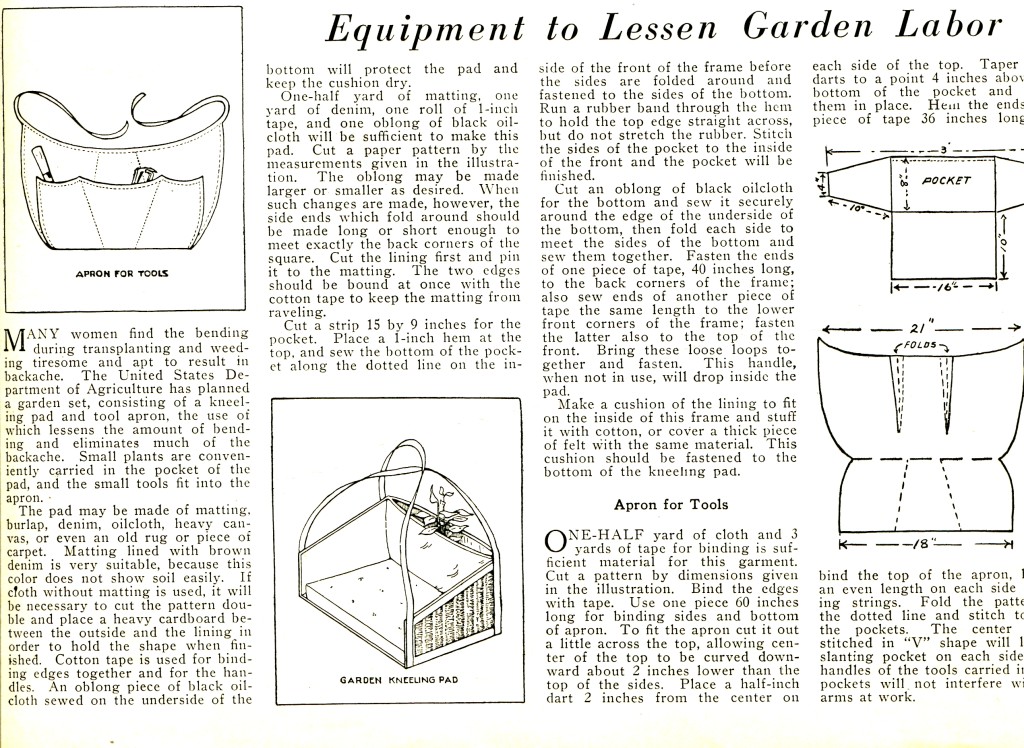 If you're interested in more garden apron sewing patterns, check out these sites:
For our quilters out there, you know what a fat quarter is (1/4 yard cut of fabric that (usually) measures 18″ x 22″). This pattern from the Sew, Mama, Sew! blog uses fat quarters to make a cute garden apron.
Fat Quarter Project – Gardener's Apron
This one from the TLC Home site uses applique.
Gardening Apron Quilted Clothing Pattern by Phyllis Dobbs.
This Fresh Spring Gardening Apron Pattern from Craftaholics Anonymous® is so pretty!
This is just a photo of a Garden Apron, but what a great idea. It uses the seat of an old pair of jeans, and the back pockets become garden tool holders.
Enjoy!