On a theme of baskets, since we're so close to Easter, I found a couple of vintage cross stitch patterns to share from a 1914 Home Needlework Magazine.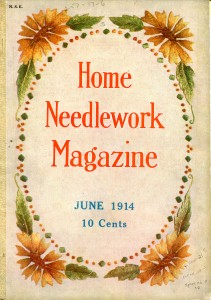 This is a terrific little magazine that is full of embroidery, crochet and knitting patterns. The article is titled, Cross Stitch Designs for Household Articles.
A couple samples of the finished designs:
The article describes using these motifs on different types of linens. For fabric that doesn't have an even weave it explains how to use waste canvas. This website has a post that explains what waste canvas is and how to stitch with it. It's a better explanation than the one below from 1914.
Cross Stitch Pattern Symbol Chart
A color symbol chart for the designs is included. You may substitute other colors according to your own preferences. The article suggests using three threads of stranded cotton for cross stitching.

Paragraphs that Accompany the Designs
One great beauty and advantage in these motifs is that they may be adapted and applied to different articles in different ways. By counting the squares, the design can be worked out on any regular weave material, such as canvas, where a prominent thread marks off regular squares. One should count these squares and the number of rows of symbols before commencing the work, in order to determine the exact position of the motifs.
Any of these designs may be carried out on plain material, by the use of Penelope canvas or scrim (a light weight gauzy material). The latter being more pliable will require special care to see that the threads are perfectly straight, so that the crosses will be even.
Place the canvas or scrim over the surface where the design is to be worked, and baste carefully in place. The stitches are taken through both material and canvas, working between and not into the threads of the latter, leaving them perfectly free to be drawn out after the work is completed.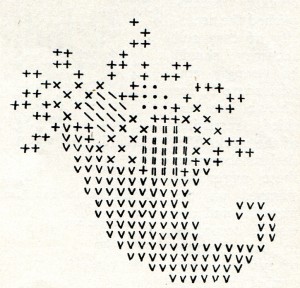 The cornucopia design can be used for various purposes. Perhaps the most suitable would be for a towel or scarf, making a border of the motifs along the end. Instead of using a scallop, the ends might be hemstitched, and this, by a great many is preferred on an article which is to be frequently laundered.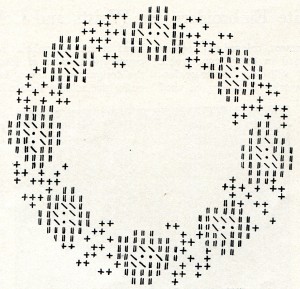 Saving the Designs
Each motif can be individually clicked on and printed or saved (right click, save image as). The print out of each is large, half of an 8 x 10 inch piece of paper, if you don't make any size adjustments to your printer settings. I experimented with a couple of the size settings and the 3.5 x 5 inch was nice. Not too small, easy to see to copy and a good size for a motif on a towel or table linen.
PDF Scan of the Full Article
You can also download and save the whole 3 page article with the file below:
The pattern is in PDF format so to read it you'll need the Adobe Reader software on your computer. Most computers come with it, but it is free and can be found here.
Download Instructions: Right-Click the link and select either "save target as" or "save link as" depending on what browser you are using or simply click on it and save or print.
If you like this page, be sure to share it with your friends and like our Facebook Fanpage so you can get updates every time we post new patterns.
Enjoy!
This post contains affiliate links. For more information, please see my disclosure policy.