Welcome to this Friday's VTNS Fan Freebie!
Spring is in the air, but even here in sunny Florida it's been chilly. So I thought a quick and easy, snug and cozy knitted afghan pattern may be in order.
It's done in colors of the late 1960s….Cinnamon, Gold, Nile Green….brings back memories. You could certainly choose your own colors. This would be a fun afghan to do in school colors to take to the games to keep warm.
The afghan is made using the Seed Stitch. I found a great large close-up photo of it on the For Dummies site – How to Knit a Seed Stitch.
There's a nice video demonstration on how to work the Seed Stitch on YouTube here.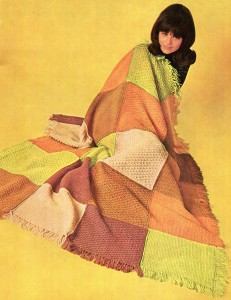 See the great harvest colors they used for this vintage afghan pattern!
This is an American Thread Company pattern using their "Dawn" Knitting Worsted yarn, but they've been out of business for a while so you'll need a substitute. It was a wool yarn that came in a 4 ounce skein of 252 yards. I believe today's comparable would be a Medium weight worsted yarn.
The afghan takes 3 – 4 ounce skeins of each of the 5 colors. A pair of No.8 Knitting Needles or any size that will result in a stitch gauge of 4 sts = 1 inch and a Size H Crochet Hook to work single crochet stitches around the blocks.
Each block is 12 inches square and there are 20 of them. The finished size of the afghan is 48 x 60 inches plus added fringe if you'd like.
Right click on the pattern image to save it.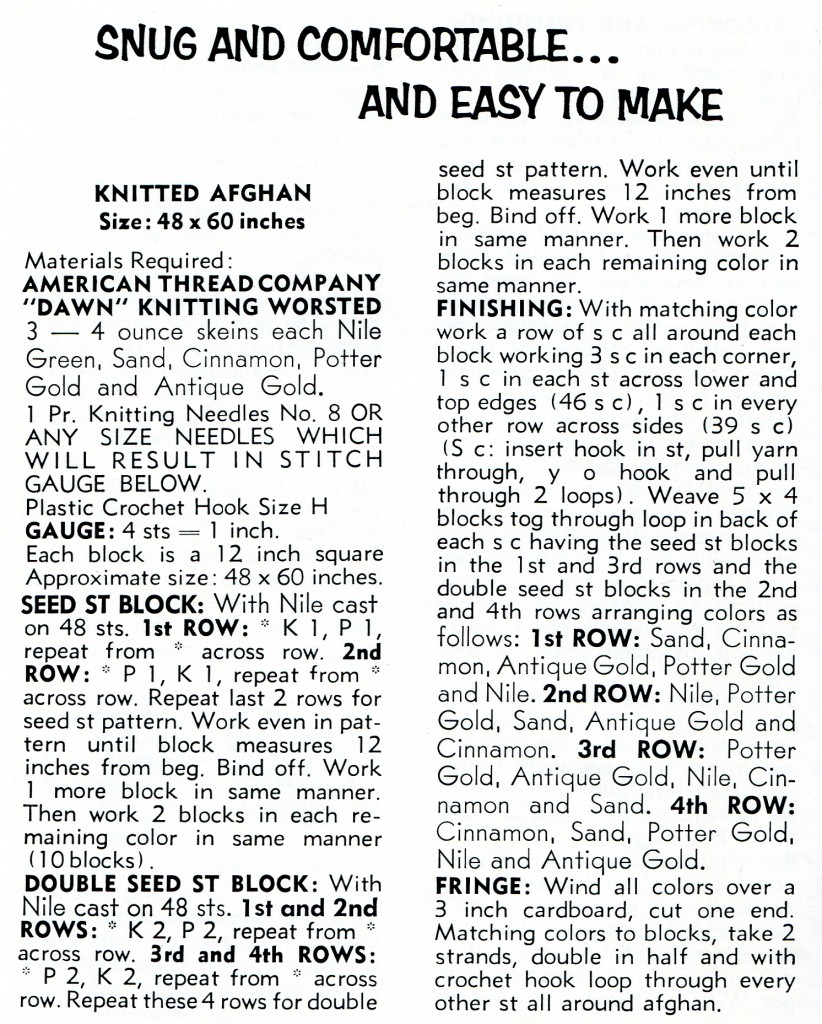 Enjoy!