Welcome to VTNS (Vintage Textile and Needlework Sellers) Fan Freebie Friday!
Today's pattern is perfect for filling with Valentine's candy or Easter treats. Get  a jump start on your Easter crafts by crocheting several of these sweet little baskets  to fill with small toys and candy.
They would look wonderful in a deep red for Valentine's Day filled with candy hearts or pretty pastels filled with colorful jelly beans for Easter.
The pattern is from a January 1914 issue of Home Needlework Magazine.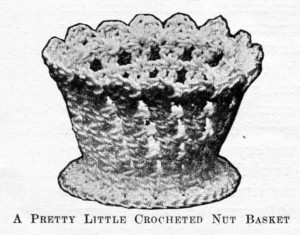 CROCHETED NUT BASKET
MATERIAL – Crochet Cotton No. 3 and a steel crochet hook No. 7
DIRECTIONS – Chain (ch) 4, and join.
Row 1 – Eight single crochet (s) in ring and join.
Row 2 – Two s in each stitch of Row 1.
Row 3 – Like Row 2.
Row 4 – One s in each stitch of preceding row.
Row 5 – Chain 3, 1 double crochet (d) in same stitch with ch, 2 d in each alternate stitch of Row 4, and close with sl st at top of chain.
Row 6 – Chain 3, 1 d in stitch with ch, 2 d in each 2 d of Row 5. Repeat around, closing with sl st.
Row 7, 8 and 9 – Like Row 6.
Row 10 – Chain 3, 2 d in joining stitch of last row, sl st in same stitch. Slip stitch between next 2 d, 2 d, slip stitch. Repeat around and fasten off.
BASE – Fasten thread in the skipped stitch of Row 4, ch 3, put 2 d in same place, 3 d in each skipped stitch, fastening thread securely at the end.
A ribbon run through the upper row of holes and tied in a pretty bow adds much to the color scheme of the table.
I've also included a PDF copy of the pattern that you can save and print.
The pattern is in PDF format so to download it you'll need the Adobe Reader software on your computer. Most computers come with it, but it is free and can be found here.
Download Instructions: Right-Click the link and select either "save target as" or "save link as" depending on what browser you are using or simply click on it and save or print.

Enjoy!