Welcome to this Friday's Vintage Textile and Needlework Sellers Fan Freebie!
I wanted to share this easy vintage knitting pattern today for two reasons. The first is because we shared a great link a couple days ago on our Facebook Fan Page and I wanted to continue with that theme.
The link was The Pink Slipper Project which was created to provide slippers to women and children in shelters. You'll find plenty of knitting and crochet patterns on the site as-well-as information on how you can help out.
The other reason is lately in this cold weather I find myself sleeping in my socks. I saw this pattern and it just might fit the bill to keep my toes warm at night.
Reading over the pattern it looks like they'll be easy and quick to make and are one size fits all. I know they look a little pointy, but they're supposed to stretch to fit your foot.
The suggested yarn to use is Super Fingerling 100% wool. I don't think Coats and Clark's offers it anymore. However, I did find a couple vintage skeins for sale on the internet.
The weight of this yarn is delicate and used for baby items, lace, and socks. I looked around to find what may be an equivalent for Super Fingerling yarn and found Red Heart Heart & Sole™ which is 70% wool superwash, 30% nylon. It comes in a great selection of color choices.
In the description it states that this yarn has properties of aloe vera through it which helps the yarn glide smoothly on needles and hooks, but I thought, how nice for my feet!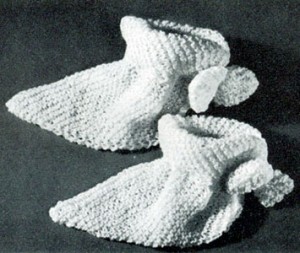 STRETCH BED SOCKS PATTERN
Soft and cozy, for all women's sizes.
Coats & Clark's "Red Heart" Super Fingerling, 3 Ply (1 oz.  Skeins): 2 skeins of your choice of color.
Knitting needles, 1 pair No. 13.
½ yard of narrow elastic.
GAUGE: 9 sts = 2 inches; 7 rows = 1 inch.
Starting at back seam, cast on 40 sts. Knit across. Now work as follows:
1st row (lower edge): K 1, inc one st in next st, k to end of row.
2nd row: K 1, k 2 tog, k to end of row. Repeat these 2 rows alternately for 6½ inches, ending with 2nd row.
Next row: Repeat 2nd row.
Following row (top edge): Repeat first row. Repeat last 2 rows alternately until total length is 13 inches. Bind off. Fold in half. Sew sole seam. Sew lower 4 inches of back seam.
Cuff: Fold 2 inches from top edge and sew edge to right side of sock leaving 2½ inches free at back. Cut elastic in half and draw through cuff, sewing ends of elastic together. Fold point at end of cuff to form a straight edge extending beyond back seam, sewing edges together. Complete point at opposite end the same way.
Thread needle with a one yard length of yarn, double and knot, draw through each narrow end of cuff and pull tightly winding several times around to form a bow.
Some abbreviations you may need to know to use this pattern:
Stitch(es)………. st(sts)
Knit……………… k
Increase……….. inc
Together……….. tog
If you make a pair, we'd love to see them. Please share a picture on our VTNS Fanpage.
To print the pattern, you can highlight the parts you'd like printed then click on file, print, and choose selection for the print range.
Enjoy!