Welcome to the first VTNS (Vintage Textile and Needlework Sellers) Fan Freebie Friday of the new year! We've had a lot of fun sharing these patterns with you over the past year and look forward to sharing many more this year.
Just as a new year is a new beginning, our pattern for today represents the symbol for a long life and out with the old and in with the new. A beautiful vintage Butterfly Line Quilting Design.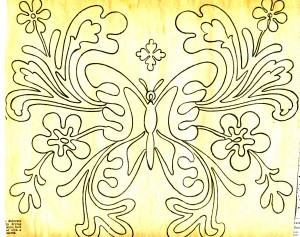 This particular design was clipped from a 1930's newspaper and glued onto an old catalog page in a quilting scrapbook. In the image you'll see a little of the catalog page off to the side. I love my un-du, an adhesive remover, and use it all the time with great results, but felt if I removed it at all I might tear or destroy it somehow.
The pattern was a tiny bit bigger than my 8 1/2 x 11 inch scanner window so the curves on the bottom and top edges will need to be filled in on the original size before you trace it.
When I was looking over this image I could see it used as an embroidery pattern as well. Using the vibrant colors of butterflies, like deep blue, bright yellow and green. I've included a couple smaller sizes that may be easier to use for embroidery for a nice addition to a blouse, towel or pillowcase.
I played around with the design and was able to clean it up and scan it in black and white in several different sizes :
Original Size Butterfly Line Quilting Design Pattern
Butterfly Line Quilting Design Patterns Two on a Page
Butterfly Small Line Quilting Design Pattern
Butterfly Medium Line Quilting Design Pattern
All are in PDF format so to download them you'll need the Adobe Reader software on your computer. Most computers come with it, but it is free and can be found here.
Download Instructions: Right-Click the link and select either "save target as" or "save link as" depending on what browser you are using or simply click on it and when it opens in another window just save or print.
Enjoy!