Embroidered Holly
During the holiday season, all over the world branches of bright green holly with pretty red berries adorn our homes as a decoration. This week's freebie will show you how to embellish an item with embroidered holly.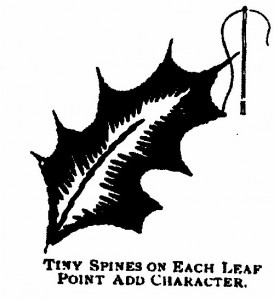 Home Needlework Magazine
The lesson is from a 1908 edition of the Home Needlework Magazine. This women's magazine was devoted to the art of needlework, embroidery and lace making. It was touted as an authority on home decoration, dress embroidery and things fashionable.
Part of the lesson consists of the importance of shading and the colors used for the motif. The article suggests using 3 shades of red for the berries, one deep, one medium and one very light, maybe even pink.
Also discussed is using the correct slant of the stitches to make your embroidery look realistic. It was customary in the early 1900's to use silk embroidery threads.
Even a beginner can follow this lesson and use the techniques taught to embellish a doily, napkins or a tablecloth for the holidays.
1908 Home Needlework Magazine Article – How to Embroider Holly
The lesson is in PDF format so to read it you'll need the Adobe Reader software on your computer. Most computers come with it, but it is free and can be found here.
Download Instructions: Right-Click the link and select either "save target as" or "save link as" depending on what browser you are using or simply click on it and save or print.
Holly Patterns
The lesson doesn't include a holly pattern. You ordered the printed design from the magazine. With a quick search on the internet you'll bring up many free downloadable prints you could use.
To get you started, this article on Drawing a Christmas Holly with Watercolor Pencils shows shading that may be helpful when doing the embroidery.
From Mary Cobert's Needle 'n Thread site, a hand embroidery PDF pattern for Boughs of Holly that would fit nicely in a corner of a napkin or table topper.
Why do we Decorate with Holly?
And last but not least, Why do we decorate with holly? This interesting article from TLC Family tells us.
Enjoy!
This post may contain affiliate links. These affiliate links help support this site. For more information, please see my disclosure policy.