Star Snowflake Ornament
This pretty star snowflake is actually a motif for a Supper Cloth or Buffet Topper, but when I saw it in my 1940's Lily booklet for Easy to Crochet Table Cloths and Runners, all I could think of was this would make a great crochet thread ornament.
See what I mean….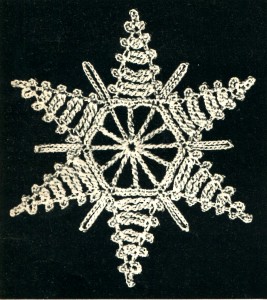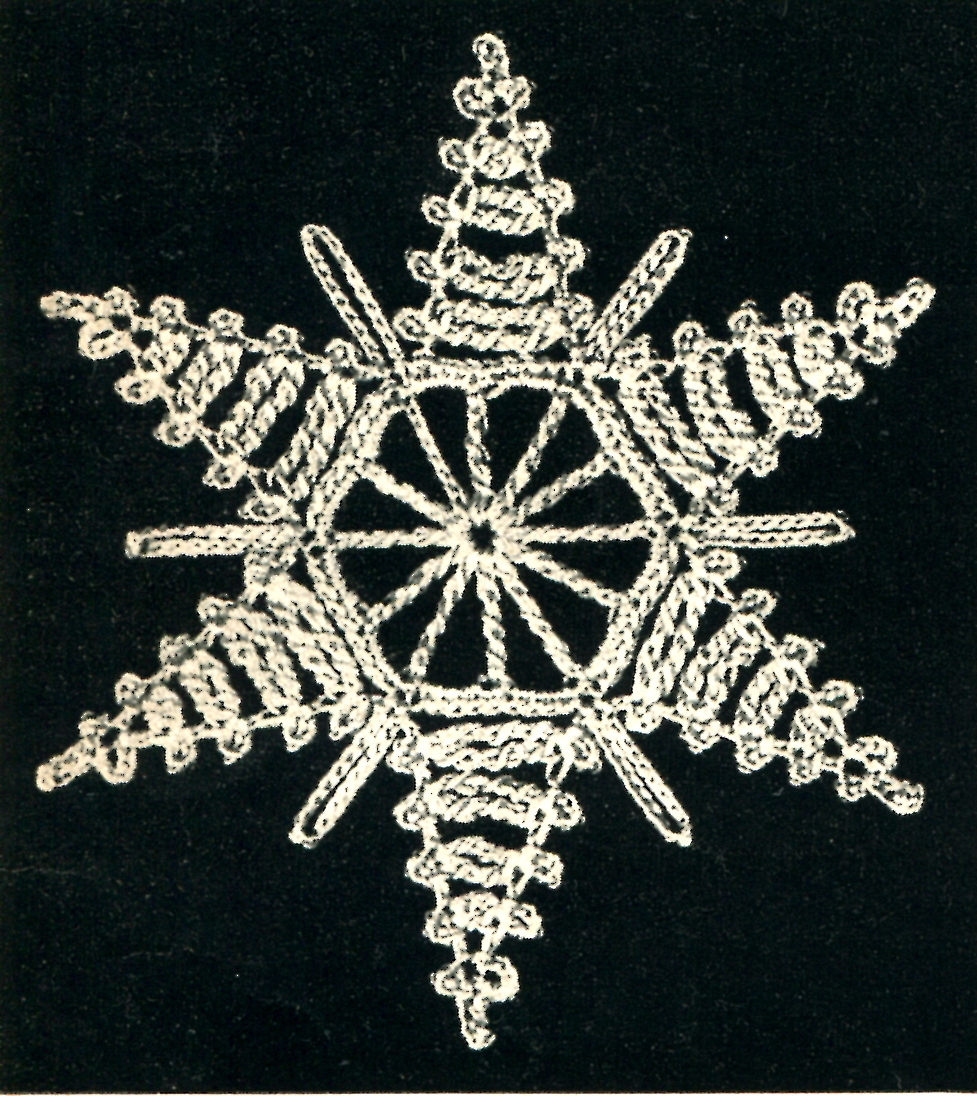 Of course, if you'd like to you can join several together to make a pretty doily or runner. The instructions are included to do that.
Stiffening a Crochet Project
In order to use it as an ornament you'll need to stiffen it. There are several ways to do this I'll go over below, but you must know how to block your ornament too.
Blocking is simply slightly stretching it out, pinning it down on a soft cloth and steaming it with a hot iron with a wet cloth over it. Once it's flat you can then put a dry cloth over it and iron until it is dry.
While blocking, spritz it with spray laundry starch, that will help the blocking to hold. By blocking and stiffening your ornament the delicate arms of the snowflake won't droop.
Crochet Snowflake Stiffeners
If you'd like to use fine glitter to make your snowflake sparkle, a glue stiffener would do and if you add some beads, you'll have to use a strong stiffener so it won't flop from the weight of the beads.
White Glue
A solution of Elmer's or any white glue thinned with water about 50/50 is good to use if you'd like to add glitter. Lay the solution in a plastic container with a flat bottom or on a paper plate. Dip the snowflake in, let it soak just a bit, and then gently squeeze out the excess solution with your hands without wringing or twisting. Messy but fun! Lightly sprinkle with your choice of glitter, then block.
The glue is not the best for a non-glittery snowflake, since it dulls the threads sheen. If you're not using glitter on your ornament, starch is a better stiffener.
There are several videos on YouTube that show you how to stiffen your crochet snowflakes. This 2 minute video on How to Stiffen a Crochet Snowflake by The Crochet Geek explains using the glue method.
Starch
If you'd like to decorate your snowflakes with beads, or have used metallic threads, you'll want to stiffen them with starch. The cornstarch in your cupboard will work. Mix a tablespoon of cornstarch with 1/2 cup of water on the stove until it becomes thick and transparent. It's best not to do this in the microwave because it can make a big mess. The cornstarch mixture is very hot and will stick to your skin easily making for a bad burn, so be very careful.
Let the solution cool slightly. Dip your snowflakes and let them soak up the solution, next blot them off with a paper towel as you shape them.
The leftovers of this solution can be kept in the fridge for about a week, just make sure you mark it well, so others in the family don't think it's something to eat! A deli container with a top would work well.
Sugar Water Stiffener
This stiffener is tried and true, but beware, pets will be attracted to the sugary treat and may eat your snowflake, which would cause a trip to the Vet. Unless you have the most obedient pet ever, you may want to skip this one.
The sugar stiffener is made up of 2 parts sugar and 1 part water heated and stirred often in a saucepan on the stove. It's best not to do this in the microwave. Boil just until all the sugar has dissolved, then let it cool. This solution can cause awful burns so be very careful when making and using it.
Once cooled, follow the same instructions for stiffening as above for Starch.
Epsom Salts
Epsom salt can be used as a stiffener, similar to the sugar stiffening without the enticement to hungry pets. It's also supposed to make your ornament sparkly, like the sugar solution.
To make this stiffener use equal parts Epsom salts and water. Heat the water to boiling, then add the Epsom salts until dissolved. Cool, dip your snowflakes and shape. They will dry quickly.
*********************************************
These are just a few of the many ways you can stiffen your ornaments. There are several commercial brand stiffeners on the market too that you can find at the nearest hobby store.
Always use rust proof pins when laying your ornament out to dry. To avoid using pins for a long period of time, that may cause rust, a hair blow dryer can be used to speed up the drying time.
Star Motif
The Star Motif uses Mercerized Crochet Cotton in size 20 and a size 9 crochet hook. Here's the pretty crochet pattern:
Blazing Star Snowflake Crochet Pattern PDF
I've also included a page of Crochet Stitches and a Chart of Correct Sizes of Crochet Hooks for Different Sizes of Thread that was in the booklet.
Crochet Stitches and How to Make Them
These are in PDF format so to download them you'll need the Adobe Reader software on your computer. Most computers come with it, but it is free and can be found here.
Download Instructions: Right-Click the link and select either "save target as" or "save link as" depending on what browser you are using or simply click on it and save or print.
If you like this post, be sure to share it with your friends and like our Facebook Page so you can get updates every time we post new patterns.
Enjoy!
This post may contain affiliate links. These affiliate links help support this site. For more information, please see my disclosure policy.