Welcome to the VTNS Fan Freebie Friday pattern!
Well, I bet everyone is thinking about how close Christmas is and what you're going to make for everyone. How about a pair of  socks for Dad? This week's Fan Freebie is a Vintage Hand Knitted Sock Pattern for Men from 1944.
With a handsome plaid-mad diamond design, your man will be ready to hit the golf course with these! Here's the snapshot of the finished project: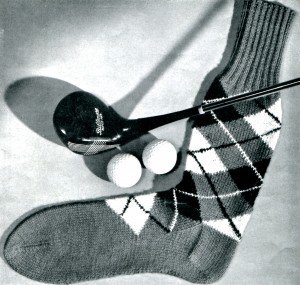 On an earlier post I shared a Beginner Knitting Manual. The manual is basic and you may need a bit more knowledge to finish these socks, but there are several places on the internet that explain how to knit socks.
On the WikiHow website they have tutorial on How to Knit Socks: 22 steps (with pictures) explaining the process.
You'll find the pattern here:
Hand Knitted Socks for Men Pattern PDF
This pattern is in pdf format so to download it you'll need the Adobe Reader software on your computer. Most computers come with it, but it is free and can be found here.
Download Instructions: Right-Click the link and select either "save target as" or "save link as" depending on what browser you are using or simply click on it and save or print.

Enjoy!