Welcome to the VTNS Fan Freebie Friday pattern! Loop crochet, imagine all the fun things you can make with this technique.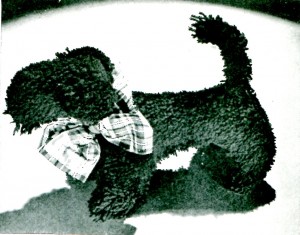 Before I share the Scottie Dog pattern, I found several websites that explain how to do loop crochet. After I read the instructions I realized I'd needed a little extra help figuring this stitch out.
Visual learners can use this 2 minute YouTube video from CraftPassion:
Still visual but not a video, this blog demonstrates how to do the Loop Stitch:     (Lefties – It even has a option to mouse over the photo for a left-handed view)
This particular pattern requires that you knit the dog pattern (shown on a 1 inch graph sheet) in a garter stitch, then work the loop crochet in every row. With the tutorials above, you may be able to use only crochet by increasing and decreasing the stitches following the graph pattern of the Scottie.
This pattern uses something I had never heard of before, Athena Noninflammable Needles and Crochet Hook. I found out that this was in response to the public's concern about combustible celluloid items. There had been several reports from the movie industry that celluloid items had easily caught fire.
Dated 1941 this pattern was issued right around the time celluloid became a concern. Bakelite was introduced for the very same reason. With modern day needles and hooks there are no concerns about this any more and the requirement of stating them as "Noninflammable" isn't required.
Here's the cute Scottie Dog pattern:
MacDougall Scottie Dog Loop Crochet Pattern
The pattern is in PDF format so to download it you'll need the Adobe Reader software on your computer. Most computers come with it, but it is free and can be found here.
Download Instructions: Right-Click the link and select either "save target as" or "save link as" depending on what browser you are using or simply click on it and save or print.
Check out our other free vintage crochet patterns and "like" VTNS (Vintage Textile and Needlework Sellers) on Facebook for Tuesday Treat recipes and Fan Freebie Friday.
Enjoy!