Welcome to the VTNS Fan Freebie Friday pattern!
Today we are sharing some information on a tried and true needlework art form that's been around a long time, embroidery transfers. Some even dating back to the 16th century. Examples of ancient transfers can be found on the Internet and are great for use on historical clothing. This article about Historical Embroidery on Mary Corbet's Needle 'n Thread page goes into detail about it.
When you think of iron-on transfers there are several companies that come to mind right away, Aunt Martha's, Workbasket, Vogart and there were many more that have come and gone.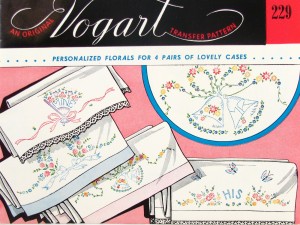 Vogart did many of the Days of the Week transfers and pillowcase motifs. It's no longer in business. In 1990 they filed for bankruptcy and some of their assets were taken over my other companies. You can find out more about the history of Vogart in this article.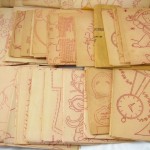 Workbasket magazines included an impressive fold out page of transfers in each issue. If you've been looking for a certain pattern that was in a Workbasket magazine, but can't remember what issue you saw it in, this extensive search able database will help you find it. A lot of hard work went into this Workbasket Magazine Table of Contents.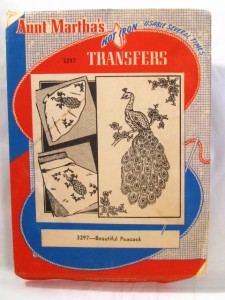 Aunt Martha's is still making transfers, although many of the older designs have been retired, making the vintage transfers a fun find. Colonial Patterns manufactures the new designs under Aunt Martha's that can be found today.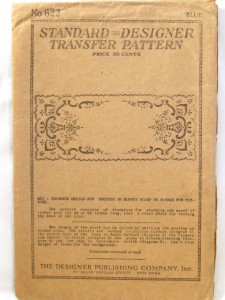 Many of the large sewing companies also offered and are still offering transfers. Butterick especially has some nice transfers I've seen from the 1920s.
Before the 1950s many transfers were perforated patterns rather than iron-on. Perforated patterns required that a powder be forced through the tiny holes on the patterns. Those that have a raised ink design are called Numo transfers and were meant to be used only once. The red flat ink transfer, like Workbasket, could be carefully used several times.
In an earlier article on this blog about transfers you'll find a link on how to transfer the free patterns we've shared called the Five Methods for Marking an Embroidery Pattern on Fabric.
To see embroidery transfer items our VTNS members have a available now click here.
If you embroider any of the free transfer patterns or one of your own, please share them on the VTNS Facebook Fanpage.
Now for today's download. One I'm sure you've seen before. The Colonial Woman, Lady or Girl comes in many different variations and was used many times as a pillow case edge along with some crochet. This one has floral detail and she's in a beautiful dress and hat:
Colonial Woman Embroidery Transfer Pattern with Floral Detail
Enjoy!
The pattern is in PDF format so to download it you'll need the Adobe Reader software on your computer. Most computers come with it, but it is free and can be found here.
Download Instructions: Right-Click the link and select either "save target as" or "save link as" depending on what browser you are using or simply click on it and save or print.
Save
Save
Save
Save