Welcome to today's VTNS Fan Freebie Friday! As Vintage Textile and Needlework Sellers we love to share all kinds of vintage craft patterns with our Facebook Fans.
We are bringing back a tried and true craft today, Grandmother's Hand Made Crocheted Rag Rugs. The only tool necessary to make a crochet rug is a wood or metal hook and a the knowledge of a couple basic crochet stitches.  Generally a size No. 3 hook with a 1/4 inch shank is used.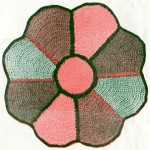 Crocheted rugs wear well and are quick to make. They can be made as one unit or made in several sections and then assembled. It requires no binding or lining.
Easy to match to your decor by using leftover scraps of material from sewing your window coverings, bedspread or pillows. Even old sheets found at yard sales and thrift shops can be used for this project.
Materials can be wool, silk, cotton and most recently, leftover plastic grocery bags. A great recycle project for that stash of bags stuffed away in the kitchen. Much better place for them than the landfill.
The rag strips can be in widths from 1/4 to 1 inch, depending on the kind of rug desired. The width of the strips should be equal. Rags used are cut or torn on the bias or straight along the length of the material. Crocheting is easier if the rags are wound in small balls.
You don't have to sew them together, simply cut a small slit in one strip, then thread the next strip through the slit and fold over. This method can be used when changing colors as well.
Crochet stitches in rag rugs vary from 2 to 4 in an inch, depending on the width or weight of the strips used. Heavy twine, sisal or cotton, may be used for filler. This will add durability and thickness.
This pattern requires making scalloped sections and then joining them. The eight sections will be slip stitched together. To make sure the pieces fit properly or about the same size, change the number of stitches or rows from what is required, if necessary.
This video explains crocheting a curve on a rag rug which may help with the scallops needed in this pattern:
Abbreviations Used in the Instructions are very basic and include:
Ch. – Chain
S.C. – Single Crochet
Sl. St. – Slip Stitch
D.C. – Double Crochet
The instructions site "Linkraft" strips which were available at the time this booklet was written in 1933.
Sometimes your rug won't lay flat. To remedy that problem, place a wet sheet over the face down rug. Hold it down with a heavy weight for about two days. It should then dry flat. Lightly starching the wrong side will prevent curling.
Here's the pattern in PDF format:
Grandmother's Crocheted Rag Rug – Dresden Plate
As always, we'd love to see your finished product, so if you make this rag rug please share an image on our VTNS Facebook Fanpage.
You'll need the Adobe Reader software on your computer to read the PDF. Most computers come with it, but it is free and can be found here.
Download Instructions: Right-Click the link above and select either "save target as" or "save link as" depending on what browser you are using or simply click on it to open it and save or print.

Enjoy!