Welcome to the VTNS Fan Freebie Friday where we offer free vintage craft patterns for the fans of our VTNS Facebook Fanpage.

We've never done anything with beads before and this first pattern we chose is for a Tri-cornered Jewel Case and Pincushion. It's from a Godey's or Peterson's ladies book from the late 1800s.
The pattern is meant to be done on velvet. I'm not familiar with beading on fabric so I scouted the internet and found this video How to Bead Fabric by a self-taught beader.
She does an excellent job of explaining the basics. There is no sound with the video, but you can pause and read the written screens when you need to. You'll see how the beading technique demonstrated as well.
At the bottom of the video page, don't miss the step-by-step instructions. Lots of good basic information if you've never done beading on fabric before. I'm seriously going to give it a try after watching.
There are no instructions with this pattern on how to sew the jewel case, but it should be easy enough to figure out or use a pattern you have to make something similar that you could use this beading design on.
The pattern is in 1800s printed color which leaves a lot to the imagination. I'd use any color combination that is pleasing to you.
Here's the pattern: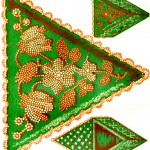 Vintage Beads on Velvet Pattern
You'll need the Adobe Reader software on your computer to read the pdf. Most computers come with it, but it is free and can be found here.
Download Instructions: Right-Click the link above and select either "save target as" or "save link as" depending on what browser you are using or simply click on it to open it and save or print.
Enjoy!