Welcome to the VTNS Facebook Fanpage Freebie Friday! Do you know someone that will be graduating soon? This week's freebie pattern celebrates those that have graduated or will be graduating.  It's a quilt pattern called My Graduation Class Ring. As you can see in the photo, it mimics the look of a multi-faceted gemstone ring.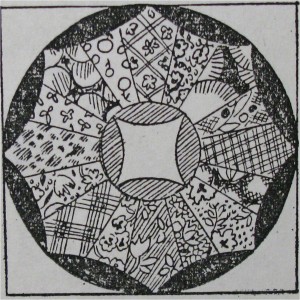 This vintage quilt design is quite complicated and perfect for experienced quilt makers. Others may want to try their hand with this pretty design as a pillow.
Making curves in a quilt takes time and patience. It's always been a technique mastered by few, but when it is, the quilts made using them are wonderful.
A couple other quilt patterns come to mind when you think of curves, such as the Dresdan Plate, Double Wedding Ring, Drunkard's Path, Orange Peel, Mariner's Compass and there are many more.
You can even use straight seams that mimic curves in a quilt. Two quilt blocks that do this are the Curved Log Cabin and Storm at Sea.  These blocks combine light and dark fabric colors to create the illusion of curves when you look at them.
Another easy technique for novice quilters offers bias-covered curves, so any mistakes you may make sewing the curves together can be covered with fabric bias.
Kansas City Star Graduation Ring Quilt Pattern
The pattern is in pdf format so to download it you'll need the Adobe Reader software on your computer. Most computers come with it, but it is free and can be found here.
Download Instructions: Right-Click the link and select either "save target as" or "save link as" depending on what browser you are using or simply click on it and save or print.
Enjoy!