Welcome to the VTNS Fan Freebie Friday! Today we're providing a couple pages of pretty flower embroidery patterns from 1917.
The delightful art of embroidery has been taught to young women for ages. Most items are done using already made patterns that although beautiful and eye-catching leave no room for using your own imagination. If you're interested in making your own designs, with the patterns provided today you'll be able to do that.
By arranging and transferring the flower patterns onto your fabric of choice you can come up with your very own design. They can be as intricate or as simple as you'd like. From something like the sample below to using one flower to adorn the corner of a vintage hankie.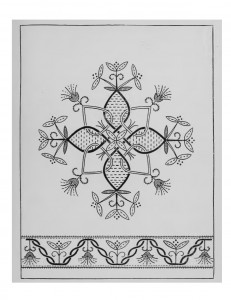 You'll need to print out and then copy the patterns onto your fabric. Here is a good article on About.com on Five Methods for Marking an Embroidery Pattern on Fabric.
Your choice of material will depend on the item you'd like to make and embroider. Whether it is for every day use or a pretty bonnet for a baby.  You can find many 'ready to embroidery' items available today or use a vintage item you've found.
To use these patterns you will need at least an elementary knowledge of embroidery stitches, but they aren't too complicated that you wouldn't be able to quickly learn how to do them.
There are many places on the internet that feature a how-to on stitches as-well-as YouTube videos you can watch and follow along as the person makes the stitch. Just do an internet search on the stitch you'd like to learn more about. In an earlier blog post we discussed some Important Embroidery Stitches.
Some of the stitches you'll need to know are: Daisy, French Knots, Buttonhole, Chain or Stem, Satin, Coral or Feather, Double Back, Romanian or Fish-Bone, and Fern.
The instructions will point out the best stitch to use for each flower. The color of the embroidery thread and whether it is cotton or silk, is up to you.
So have fun and let us know what you come up with by sharing it on the VTNS Facebook Fanpage.
Here are the pages to download:
Antique Embroidery Flower Patterns and Instructions
You'll need the Adobe Reader software on your computer to read the pdfs. Most computers come with it, but it is free and can be found here.
Download Instructions: Right-Click the link above and select either "save target as" or "save link as" depending on what browser you are using or simply click on it and save or print.

Enjoy!