Welcome to VTNS (Vintage Textile and Needlework Sellers) Fan Freebie Friday!
This pattern is for all our knitters out there. It's from an April 1914 copy of the Home Needlework Magazine. Which was a woman's magazine published monthly, devoted to embroidery, lacemaking, and fancy needlework in all its forms. A one years subscription could be had for 75 cents.
Since it was published in April, I can only assume they were thinking what I'm thinking, what a great little bag to make for Mother's Day. Here it is: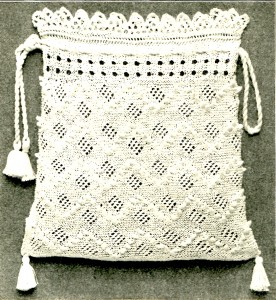 Just what you'd expect an early twentieth century ladies bag to look like.  The pattern calls for using crochet cotton in white or any color you'd like.  For this pattern you'll also need 3 knitting needles or a large pin to use to be able to bind off like the heel of a stocking. Once you're finished with the knitting you'll sew up the side of the bag and then there's a row of holes at the top to run a cord or ribbon through.
This pattern is two pages and is in pdf format so to download it you'll need the Adobe Reader software on your computer. Most computers come with it, but it is free and can be found here.
Download Instructions: Right-Click the link below and select either "save target as" or "save link as" depending on what browser you are using or simply click on it and save or print.
We featured another knitting pattern recently, a shamrock dish cloth, it you missed it you can find it here.
Enjoy!