Welcome to our VTNS Fan Freebie Friday the 13th!
According to folklorists, there is no written evidence for a "Friday the 13th" superstition before the 19th century.  Many theories have been proposed about the origin of the Friday the 13th superstition.
One theory says it puts together two older superstitions: that thirteen is an unlucky number and that Friday is an unlucky day.  I have to admit, I don't like using the number 13, but Friday the 13th has never been a problem for me. Really just another day.
Are you one of the 10 percent of modern day Americans that believe Friday the 13th is an unlucky day? Many of us just joke about it or maybe we're a little more cautious than usual. There are three in 2012, one was in January, there's today – April 13th and one more in July.  It can be a good excuse to celebrate in a fun way and some companies even use it as a sale day.
We want to make sure you have a lucky Friday the 13th so we're sharing an interesting quilt pattern from the Kansas City Star Newspaper in 1935 appropriately called "Friday the 13th."


I've found several variations of this quilt block that are all pretty similar.  I even came across this Friday the 13th Barn Quilt on the Green County Wisconsin Barn Quilts website.  Most of the blocks had the same 4-square on point in the middle and the same outside 4-corners but where I saw a difference is in the border between the two.
The quilt pattern from the Kansas City Star Newspaper starts out saying, "Don't Let Your Superstitions Frighten You Away" and claiming in the paragraph below that although Friday the 13th is thought of as an unlucky day, by using the motif for this quilt it may "be one way to ward off the evil spirits." Then goes on to tell us "when finished it is a colorful and extremely attractive" quilt.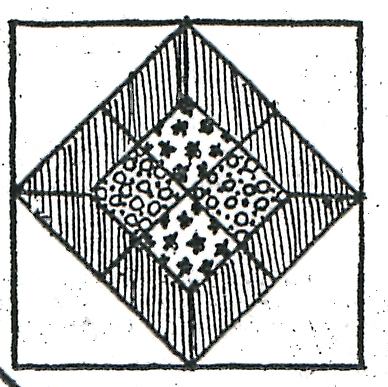 I have to agree that this quilt block could be very colorful and attractive when you combine different fabrics in prints and solid colors. It goes together like a puzzle and would be very easy to manipulate into a pretty pattern through out your quilt.
With this pattern you have to allow for seams, the template pieces do not include the 1/4 inch seam allowance. There isn't a measurement for the finished block, but based on the size of the templates I'd guess it's around 11 to 12 inches.
We've shared other Kansas City Star Quilt Patterns before and you can find them here.
Enjoy this quilt block and have a lucky Friday the 13th!
Kansas City Star Friday the 13th Quilt Pattern PDF
The pattern is in PDF format so to download it you'll need the Adobe Reader software on your computer. Most computers come with it, but it is free and can be found here.
Download Instructions: Right-Click the link below and select either "save target as" or "save link as" depending on what browser you are using or simply click on it and save or print.
This post contains affiliate links. For more information, please see my disclosure policy.