We're celebrating Easter today with several vintage Bunny crochet patterns.
This one is so cute, Peter Snuggle Bunny from a 1942 booklet by Lily Crochet Cotton and Yarn called Crochet House.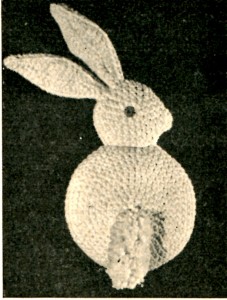 This bunny uses 2 Skeins of Rug Yarn in the color of your choice, some red Six Strand Floss and two sizes of crochet hooks, H-6 and 3.  You crochet two heads and bodies then sew together and stuff lightly.  Download the PDF pattern here:
Peter Snuggle Bunny Crochet Pattern PDF
 Another pattern from this same booklet is for baby the Peter And Susie Bib.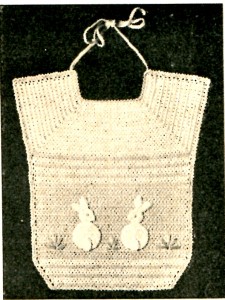 There's a yoke, the bib, then the bunnies head and body are crocheted then sewn on.
You can find the pattern for the bib here:
Bunny Baby Bib Crochet Pattern PDF
To round out our Bunnies theme is a bunny and chicken Egg Warmer pattern. I'm not too sure how many of us use egg warmers, but they are cute just the same.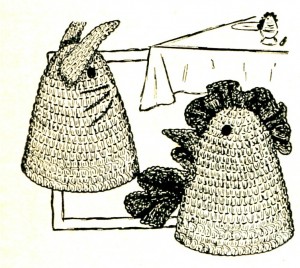 This is also a 1940s pattern using crochet. Along with this pattern there are a couple old advertisements. This includes two pages and you'll find it here:
Vintage Crochet Bunny and Chicken Egg Warmer Pattern PDF
If you knit rather than crochet, I found a knitted version of a Bunny Egg Warmer on another blog:
If you are just starting out crocheting, I've made the accompanying page of Crochet Terms and Explanation of Stitches PDF available. Also included on this page is Blocking Directions which will probably be helpful if you'd like to make the baby bib: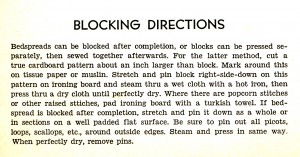 We hope you enjoy the Bunny patterns we've shared today. Be sure to show and tell or ask any questions you may have on our Fan Page.
 Enjoy!