Today for our fan freebie we are sharing a simple to make vintage toy pattern from one our members. It's a Make-A-Toy-Club Pattern for a stuffed clown. Great for a gift, easy to customize using fabric and embroidery. It would be a great little addition to an Easter basket.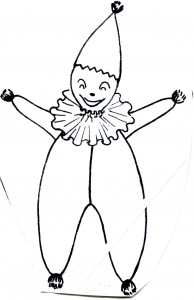 I did start to put one together. It's very easy to match up the pattern pages. I used fabric from my stash and stuffing from a small couch pillow I had intended to recover some day. Remember to clip and trim the curves before turning and make sure you put the arms inside as you sew around the body to attach them.
He measures about 18 inches tall to the top of his hat. Unfortunately, I had some other pressing things to get done so I had to set my clown aside for now, but it was fun and I loved how the body came out. Soft, cuddly and just the right size. I didn't want to take a picture of him without his head.
The pattern pages are in pdf format so to read them once they're downloaded you'll need the Adobe Reader software on your computer. Most computers come with it, but it is free and can be found here.
Download Instructions: Right-Click the links below and select either "save target as" or "save link as" depending on what browser you are using.
This first one is a zip file that contains all 3 pages of patterns and instructions. It can be downloaded and then unzipped using WinZip which is found on most computers:
Vintage Clown Doll Stuffed Toy Pattern
This is the individual pattern and instruction pages.
Vintage Clown Doll Stuffed Toy Pattern Page 1
Vintage Clown Doll Stuffed Toy Pattern Page 2
Vintage Clown Doll Stuffed Toy Pattern Instructions