We have two great vintage Irish Crochet patterns for you today. Since St. Patrick's Day will be here shortly, we've decided to share a little bit about Irish Crochet.  Certainly a favorite among crocheters, Irish Crochet when finished looks like a delicate lace.
Known also as Irish Lace it's always been an important part of the Irish needlework tradition. During the hard times of the 1800s, women found that they could earn money using their skills with this needlework. It could easily travel with them and the equipment was simple, a ball of very fine cotton and a small steel crochet hook. That's all that was needed to make these beautiful pieces of Irish Crochet lace.
This type of lace is characterized by separately crocheted motifs, which are later assembled into a mesh background. Today in that same tradition one of the patterns we're sharing is a Hexagon Table Doily in Irish Crochet from the 1950s. It's intricate and dainty with picots, petals and shells.
Also included is a vintage pattern for three different backgrounds used in Irish crochet along with a pattern for a Rose Motif.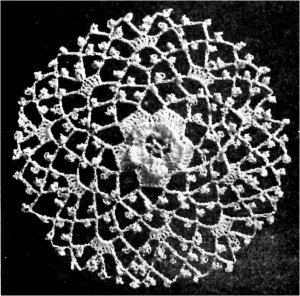 The pattern sheets below are in pdf format so to download them you'll need the Adobe Reader software on your computer. Most computers come with it, but it is free and can be found here.
Download Instructions: Right-Click the link below and select either "save target as" or "save link as" depending on what browser you are using.
Hexagon Table Doily in Irish Crochet Picture
Hexagon Table Doily in Irish Crochet Instructions PDF
Irish Crochet Rose Motif & Backgrounds Pattern PDF
Enjoy!
[pinit]