Welcome VTNS Facebook Fanpage Fans! Today we're going back to 1930. A time when every little fabric scrap was saved and used to make a functional quilt. The Kansas City Star Newspaper was famous for their weekly quilt block patterns. The one we've chosen to share is the Kaleidoscope designed by Ruby Short McKim.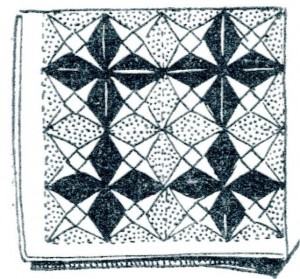 There is a short biography of Ruby and her many accomplishments in the world of quilting here.  She's most famous for her book One Hundred and One Patchwork Patterns published in 1931.
This is a pieced patchwork block that gives a 'prismatic effect'. Just like the kaleidoscopes we looked through as a child where mirrors repeated into prism forms, this block does the same.
Each block is pieced and exactly alike. They are six inches square and you use a set of four together to make a twelve inch block. By using white, dark and light colored fabrics you can achieve the Kaleidoscope effect for the whole quilt.  Batik or jewel toned fabrics would make a spectacular looking quilt.
Here is the link for the PDF to download for later:
Ruby McKim Kaleidoscope Quilt Pattern
To download it you'll need the Adobe Reader software on your computer. Most computers come with it, but it is free and can be found here.
Download Instructions: Right-Click the link below and select either "save target as" or "save link as" depending on what browser you are using.
Enjoy!
This post contains affiliate links. For more information, please see my disclosure policy.