We hope everyone had a great holiday with friends and family and we wish you a happy and prosperous New Year!
Welcome to the VTNS (Vintage Textile and Needlwork Sellers) Facebook Fanpage Fan Freebie Friday.  For today's Freebie we've chosen an easy single crocheted evening belt for a New Year's theme.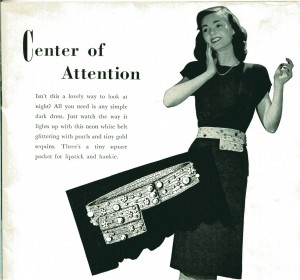 This crocheted evening belt is perfect for a night out on the town.
The caption says, "Isn't this a lovely way to look at night? All you need is any simple dark dress. Just watch the way it lights up with this neon white belt glittering with pearls and tiny gold sequins. There's a tiny square pocket for lipstick and hankie."
The pattern is from a 1946 Learn to Crochet pattern booklet.
We hope you enjoy it and make it your own by adding pretty embellishments.  If you finish one, please post your photo on the VTNS Facebook Fanpage.  A photo of the charming child's crocheted necklace from December 16th was posted last week.  If you have some extra time, stop by and take a look at it.
The pattern is in pdf format so to download it you'll need the Adobe Reader software on your computer. Most computers come with it, but it is free and can be found here.
Download Instructions: Right-Click the link below and select either "save target as" or "save link as" depending on what browser you are using.
Enjoy and Happy New Year!