Full Sized Pattern of Baby's Shoe – Circa 1870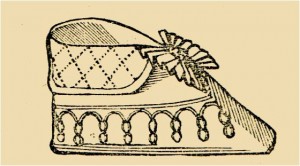 Today I've found in one of my Peterson's Magazines an adorable little baby shoe pattern from 1870. It can be made of many different materials. The article suggests cashmere or flannel, but I think felt would be cute as well.
The embroidery on it is a chain of silk thread. I believe any kind of floss could be used to follow the diagram of embroidery on the shoe.
The pattern is for one half of the shoe and sole. With A and B forming the sole. I think this would be easy to put together and if I have time I'm going to try one.
You could do many wonderful embellishments to this little shoe to make it your own, for a gift or to sell, but I wouldn't use any small items, such as buttons, that could easily fall off and be choked on. Babies are always trying to put their little feet in their mouths.
Click here to download or print out a pdf copy of the Victorian Baby Shoe Pattern. This is a full size pattern for the baby shoe, but I feel it could easily be adjusted for a bigger size by uniformly adding inches to the basic pattern.
For more information about Peterson's Magazines, check out this site.