Oops! I just noticed my calendar is on November, maybe that's why I decided to share this Christmas quilt pattern with you today. I know everyone is decorating for Fall and Halloween and I love this time of year, but I know crafters are already busy with their Christmas projects.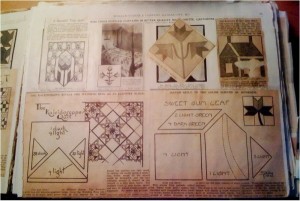 Part of my collection includes a wonderful 1930's quilting scrapbook that includes numerous Kansas City Star quilt patterns.
You can learn more about how I got the scrapbook and where I keep it in an article about my business on Debra Conrad's website: PublicDomainTreasureHunter.com
If you're a quilter, you've probably heard about these patterns. In 1928 the Kansas City Star newspaper started publishing quilt patterns for their readers. They did this weekly through the mid 1930's then off and on until 1961. By the time they stopped publishing, over 1,000 quilt patterns had been published in the Kansas City Star newspaper and it's sister publications.
Nell Snead was the fashion editor of The Star during that time. One of her responsibilities was to find patterns for the paper.  Sometimes they were submitted by local quilters. They would then be professionally designed for the paper.
The first designer was Ruby Short McKim.  She went on to publish 101 Patchwork Patterns in 1931, her only book and it remains a quilting classic today. As a matter of fact, McKim was inducted into the Quilters Hall of Fame in 2002.
After about 3 years, Eveline Foland took over the designing duties. She brought an Art Deco flair to the designs and published several series of applique and patchwork patterns for quilts. Once Foland left Edna Marie Dunn became the pattern editor of The Star.
Copies of these quilt patterns can be found on the internet and eBay. The originals are little harder to come by these days. I saw the Dover Publications reprint of Ruby's book on Amazon for a penny. It's worth it. I have two copies.
The pattern is in PDF format so to read it you'll need the Adobe Reader software on your computer. Most computers come with it, but it is free and can be found here.
Download Instructions: Right-Click the link and select either "save target as" or "save link as" depending on what browser you are using or simply click on it and save or print.
1932 Christmas Tree quilt pattern by Eveline Foland
If you have any quilting you've done that you'd like to share, please be sure to hop on over to our VTNS Fanpage, we'd love to see your work.
Enjoy!